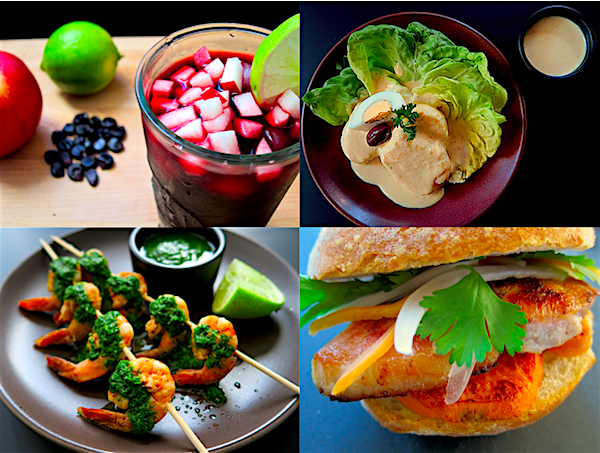 A hands-on cooking class culminating in dinner served with wine and beer.
Since the time of the Spanish Viceroyalty in the 1600's, vendors have been preparing and selling food all over the streets of Lima. The wide range of unique roadside offerings -- colorful fruit drinks, fire-grilled smoky kebobs, creamy salads, savory meat sandwiches, and sweet delicacies -- represent the cultural diversity present in Peru.
In this hands-on class, Nico Vera will teach you about the different cooking techniques and fusion of flavors used in preparing the most popular Peruvian street food. 
 
MENU
Chicha Morada — purple corn and critrus drink popular in the Andes and now the streets of Lima
Anticuchos de Camarones — shrimp kebob appetizer marinated in an aji panca and vinager sauce, a seafood version of the quintessential Lima street food, served with chimichurri sauce
Papa a la Huancaina — cooked potatoes and greens salad with an aji amarillo and cheese sauce, garnished with hard boiled eggs, olives, and parsley
Pan con Chicharron — braise pork sandwich with sweet potato and salsa criolla, typically served for breakfast and also perfect for on the  go
Mazamorra Morada — purple corn dessert pudding, warm, creamy, sweet, and topped with a cinnamon dust
Born in Peru and based in San Francisco, California, Nico Vera is the founder and chef for Pisco Trail, where he specializes in Peruvian cuisine and Pisco mixology. As a regular teacher and guest chef at 18 Reasons, he shares his passion for Peruvian food and culture through pop-up dinners and classes that are a gastronomical tour of Peru's criollo cuisine and its unique culinary history. He invites you to visit http://www.piscotrail.com/ where you can find a calendar of upcoming events and many of his favorites recipes. Currently, he is working on a book project that is a collection of short stories and recipes from his mom.