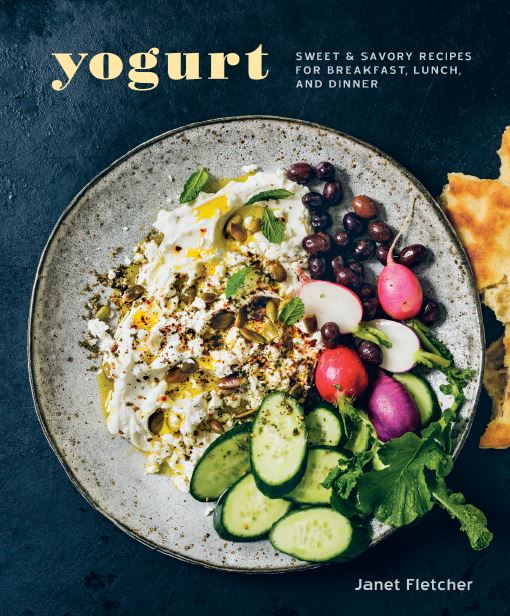 A hands-on cooking class culminating in dinner served with wine.
Yogurt is a fundamental ingredient in traditional cultures from Iran to the Balkans to India. It is also one of the few foods that lends itself seamlessly to both sweet and savory preparations, making it a boon for home cooks who need a larder stocked with versatile, wholesome, and delicious ingredients. Janet Fletcher, author of Yogurt: Sweet and Savory Recipes for Breakfast, Lunch, and Dinner, will teach us how to make plain yogurt at home (without any specialized equipment), how to use it in hot dishes without "breaking" it, and how to incorporate it into our everyday baking. 
MENU
Homemade Yogurt (demonstration)
Fresh Pineapple Lassi
Grated Carrot and Yogurt Salad with Cumin
Cucumber Salad with Yogurt, Golden Raisins, Walnuts and Mint
Braised Lamb Shoulder with Artichokes, Peas and Yogurt
Absinthe's Golden Yogurt Cake with Yogurt Cream and Local Berries
Janet Fletcher is the author or co-author of more than two dozen books on food and beverage, including Yogurt: Sweet and Savory Recipes for Breakfast, Lunch, and Dinner; Eating Local and Fresh from the Farmers' Market. Janet publishes the Planet Cheese blog and teaches cooking and cheese-appreciation classes around the country. She is the recipient of three James Beard Awards and the IACP Bert Greene Award for her journalism. Her writing has appeared in numerous national magazines, including Saveur, Fine Cooking and Food & Wine. Visit www.janetfletcher.com for the schedule of her World Cheese Tour classes in Napa Valley.