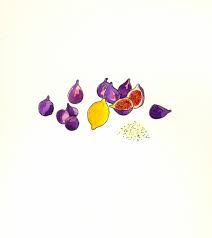 A hands-on workshop; dinner and wine will be served. 
This unique course stems off of Jennie's recent show, Instances in Keeping, in which she re-interpreted 18 Reasons instructor Shakirah's Simley recipes into multimedia artworks as a meditation on preservation and memory. Now, Jennie is excited to teach us a similar process so that we can create our own artwork, a perfect handmade gift for your favorite winter holiday!
Join us as we closely observe beautiful seasonal produce and, with Jennie's help, translate our observations into drawings with thread!
MORE INFORMATION:
Students will learn to create drawings in thread of seasonal fruits and vegetables. They will learn to transfer their drawings of an arranged still life to fabric and create a textile piece using four embroidery stitches. These stitches include: French knot, running stitch, back stitch, and satin stitch. All materials will be provided and everyone will take home their project, some extra thread and needles, an embroidery hoop, and a stitch instruction packet for later reference. 18 Reasons will provide all supplies needed for the sketching and embroidery: fabric, embroidery floss, hoops, needles, etc.
Jennie Lennick is a San Francisco-based artist who reinterprets traditionally domestic and feminine imagery into drawings, sculpture, fiber, and functional items that investigate the relationship between high art and kitsch. Her playful work oftentimes feature midcentury recipes and repetitive food motifs. Jennie holds a BFA in Drawing, Painting, and Printmaking with minors in Photography and Art History from the University of Minnesota-Duluth and an MFA in Painting from the San Francisco Art Institute. When she isn't in the studio Jennie teaches art classes at the San Francisco Art Institute, Workshop, and Root Division.