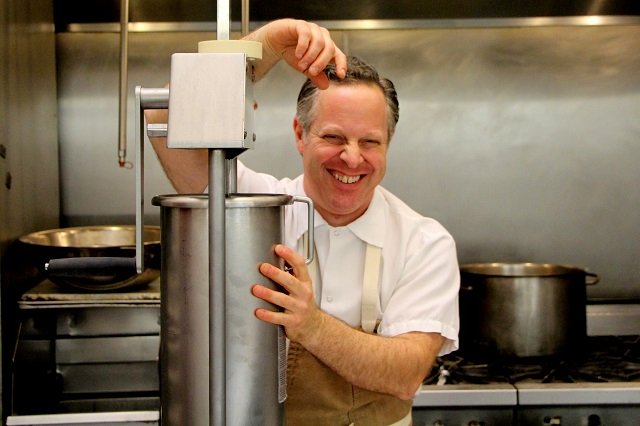 A 3 1/2-hour cooking class culminating in dinner served with wine and beer.
For too long, one of the most exciting aspects of cooking, sauce making, has frightened and confounded home cooks. With an emphasis on local ingredients and straightforward and healthy techniques, Peter Temkin will provide you with the tools and techniques for giving your dishes a special, soigné finish.
MENU
Local tomatoes with charmoula and harissa
Arugula with balsamic vinaigrette
Parsi seared tuna with buerre rouge
Grilled chicken with salsa verde
Flourless chocolate cake with raspberry coulis and chantilly
Peter Temkin brings over a decade of experience to Show Dogs and specializes in charcuterie from pates and whole-cut dry-cured meats to fresh sausages. As Show Dogs' in-house Charcutier, he introduced five new specialty sausages to the menu including Merguez, Wild Boar, Chicken Curry, Chicken Boudin and Maple Bacon. Each sausage is made with locally sourced meats but incorporate seasonings to mirror the regions from which the sausages are inspired. Peter was introduced to the culinary world in his youth while growing up in New York City – his mother was a catering chef and his father was a book publisher. This upbringing, coupled with travels to France and Italy, instilled an early appreciation for food and cooking traditions. He began his culinary career as an apprentice at Florio restaurant in San Francisco. Here, Temkin says, Chef Rick Hackett set his foundation for cooking – learning everything from practical skills to the art of cured meat. Since then, Temkin has been instrumental in the opening of high-profile restaurants including Nopa, Spruce, and Cavallo Point's Farley Bar, where he developed comprehensive charcuterie programs.