Community Dinner: Vietnamese Country Food (First Seating)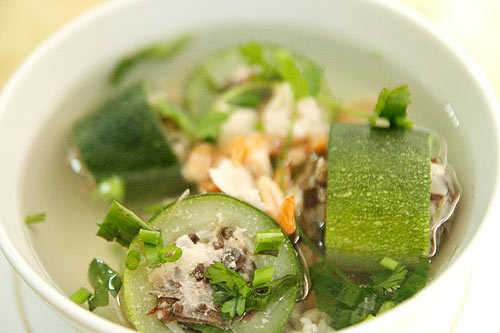 Once a month, we set our tables and open our doors to the community for a simple, shared meal. We work with our favorite ingredients, recipes, and chefs to bring you our most creative and delicious ideas. August's meal comes from Uyen Vitti, who is a gifted cook of Vietnamese Country cuisine.
MENU
Water spinach sauteed with garlic (rau moung xao toi)
Opa soup with pork belly (canh bi)
Floating sticky rice dumplings in ginger broth (che troi nuoc)
 
Uyen's Inspiration
When I was five years old, I landed on the planet of Texas by way of Vietnam and found out that the proper way to eat a meal was to hold a knife and fork at opposite angles to each other while slicing down assertively on your steak. I quickly surmised that chopsticks were for home only, silverware was for everywhere else. And steaks, well they're an American dream come true so you'd better learn to slice it. Ever since that terrifying moment, I've been a lifelong student in the art of making food for friends and family. I'm humbled to share with you my memories of growing up. Come experience the joys of my sensationally dysfunctional and truer-than-fiction Vietnamese family history. None of the recipes got written down for a reason.