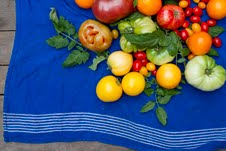 A hands-on cooking class culminating in dinner served with wine.
 
Growing up, Michelle had a very special friend with whom she shared very special meals. Liana, a transplant from Baku, Azerbaijan, lived with her parents, older brother, maternal grandparents, and a very large Husky who, much to her dismay, didn't understand a word of English. Life in that often chaotic household revolved around food. Mornings were met with potato pancakes, grandma's homemade bread (which I was never allowed to cut), softened butter, and several jars of jam. Black tea, a symbol of hospitality in Azerbaijani culture, was continuously brewing. Lunch was a time for grazing on rustic dishes like sliced cucumbers, kidney bean salad, pork and potato soup, and ikra, a cold eggplant and bell pepper mixture she would, and still can, eat by the quart. And of course, more bread and butter. Supper was always an extravagant feast: lavash, bowls brimming with herbs (which you'd pick and eat with each bite), soups like borscht and dovga, grape leaves stuffed with cinnamon-spiked rice, and lamb that Liana's father had purveyed from Pennsylania, a twelve-hour drive away. Such memories had a profound impact on Michelle's palate and imagination; this class is inspired by and dedicated to those formative experiences and to the people who created them.
MENU
Armenian Cucumbers in Sour Cream, Fried Capers, Shaved Onion, Dill
Grilled Lamb, Azerbaijani Spice Blend
Ikra (Eggplant, Pepper + Tomato Salad)
Rice Stuffed Grape Leaves
Fresh Bean Salad
served with Lavash, Olive, Feta, Pickled Chiles, Herbs + Alliums
Pistachio Halvah, Summer Fruit, Black Tea
Michelle McKenzie is the program director and chef at 18 Reasons, the nonprofit community cooking school in San Francisco's Mission District. She teaches cooking classes, curates the course calendar, and prepares the food for wine dinners and special events. She has a knack for making simple food seem special and is full of amazing tips for making every meal memorable. Michelle's food seems at once healthy and hedonistic, elegant and effortless, and always attainable.
Michelle graduated from the University of North Carolina at Chapel Hill with a degree in nutrition and a minor in biochemistry, giving her a deep understanding of food properties and their complex implications within the human body. She later graduated from The Natural Gourmet Institute for Health and Culinary Arts, where she immersed herself in health-supportive cuisine prepared from whole, organic and seasonal foods. Michelle has worked at some of the best restaurants in the country, has been featured on the Cooking Channel, and has been a contributor for publications such as Sunset Magazine.
Her first cookbook, Dandelion and Quince: Exploring the Wide World of Unusual Vegetables, Fruits, and Herbs, will be published by Roost Books in 2016.