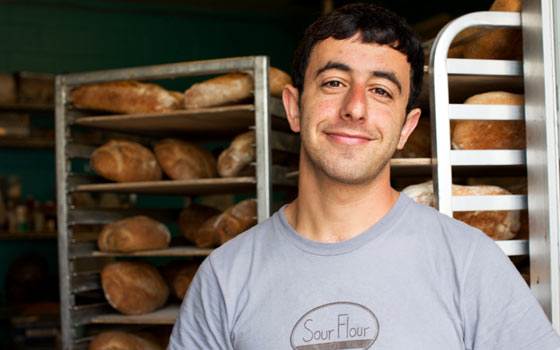 A hands-on cooking class culminating in a meal (bagels, smoked salmon, cheese, bagel accoutrements, salad).
Nothing beats the flavor and aroma of hot-from-the-oven bagels, made with a fermented, wild yeast starter. Danny will teach you how to maintain your own starter culture and how to use it to make fabulous bagels that you can boil and bake at home! Each student will leave with the rising bagels they've made in class. We'll also boil, bake, and eat previously formed bagels, sharing a light meal along our communal table.
Please come prepared to transport your rising bagels home; you'll need to bring a baking sheet or covered container to class.
 
Danny Paz Gabriner, the founder of Sour Flour, started baking in 2009. His first goal was to give away 1,000 loaves of bread, and he soon decided to leave the tech industry to embrace the world of sourdough. Sour Flour is devoted to creating delicious, naturally fermented breads and educating anyone interested in how to bake breads. After just five years, he is well known in the San Francisco Bay Area for his high quality sourdough loaves, his aromatic bread and pizza classes, and his generous weekly bagel giveaways.