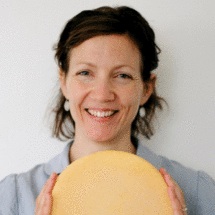 Start with fresh cream; ripen it into creme fraiche. Turn your creme fraiche into cultured butter and real buttermilk. Finally, turn your culutured butter into the purest, most luxurious food on Earth: ghee!
In this action-packed evening class, you will learn the basics of cheesemaking, including which milk to use, where to find cultures, and options for rennet and what homemade cultured butter unique in terms of process, taste and use. You will leave with a deeper understanding of the science behind the whole thing - The San Francisco Milk Maid is an absolute well of information and inspiration! Snacks will be served.
Louella Hill, aka The San Francisco Milk Maid, first encountered cheesemaking while on a sheep farm in Tuscany over a decade ago. There she realized she could be part of the process all the way from sunlight to dinner plate. She never turned back. She's trained in Europe and the US though now works mainly with a 5-gallon pot in her own kitchen. Her forthcoming book on home cheesemaking, Kitchen Creamery, is due out by Chronicle Books this year.
Visit her at http://www.sfmilkmaid.com/