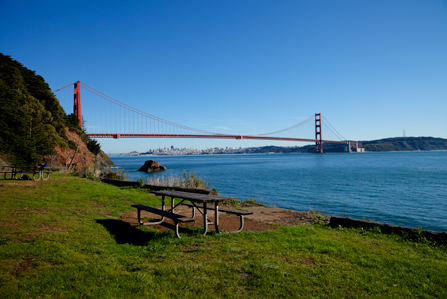 w/ Bruce Cole
An outdoor, hands-on cooking class, dinner and day of lounging. On location at Kirby Cove Campground (we will contact registrants with travel details and carpooling options).
Join us for this unique opportunity to spend a Saturday outdoors, in one of the most sought-after and stunning locations in the Bay Area - cooking, eating and growing your community! 18 Reasons will be providing food and beer for all. We encourage you to bring picnic blankets, guitars, hula-hoops, or whatever props make you relax and have fun outdoors. 
MENU
Grilled Little Gem Salad
Griled Tri-tip
Tri-tip Taco Accountrements: Local Tortillas, Salsa, Avocado, Shaved Radish, Queso Fresco, Pickled Onions
Wild Salmon Grilled on a Stick
Shelling Bean Salad with Tarragon + Pistachio
Grilled Corn, Butter, Lime, Chile de Arbol
Local Stone Fruit
Bruce Cole is the publisher and editor of Edible San Francisco magazine, one of 81 community-based publications founded by Edible Communities, Inc. Bruce has been writing about food since 2001 when he founded one of the first food blogs, SauteWednesday.com. He grills almost every night.