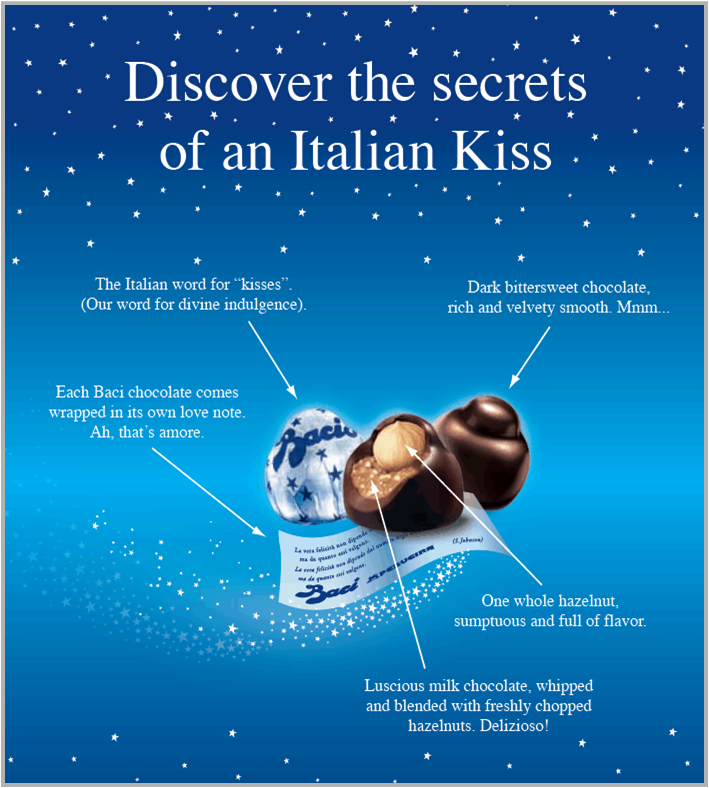 A hands-on cooking class that includes savory snacks, an array of sweet treats and a selection of dessert wine and fine teas.

Ticket price includes admittance of one child, ages 6-17. If you'd like to purchase another youth ticket, please contact us.
What better way to celebrate Mother's Day than by baking with kisses?! Viola brings her heritage to the table once more by sharing desserts made with Baci, the legendary Italian chocolates by Perugina, a company founded in 1907 by the Buitoni family of which 18 Reasons favorite Italian instructor is a direct descendant. 
MENU
Brownies al Bacio-Baci brownies
Amaretti al Bacio-Chocolate and Baci amaretti
Crostata di ricotta ed espresso al Bacio-Ricotta and espresso tart with Baci
Creme caramel al Bacio-Bacio creme caramel
Viola Buitoni, a direct descendant of the famed pasta and chocolate family, hails from Perugia, in the heart of Umbria. She came to the US in 1985 for a business degree, but soon after graduation found herself drawn back into the genetic passion for food. In New York City she started Buitoni & Garretti, a catering kitchen and Italian fine foods shop. Here in San Francisco Viola can be found giving lectures on Italian food traditions and trends and cooking classes in collaboration with the SF Italian Cultural Institute and Italian Consulate. She also teaches "The Italian Kitchen", a monthly workshop at the Cavallo Point Lodge Cooking School; and an ongoing series of food articles and cooking videos for MissionLocal.org, a UC Berkeley's School of Journalism blog based in San Francisco's Mission District where Viola lives.