18 Reasons shares our culinary skills, nutrition knowledge, and love of home cooking through Cooking Matters series, which are free cooking and nutrition classes and grocery donations for low-income Bay Area families.
** Covid update:
Please note that all in-person Cooking Matters programs have been postponed until further notice due to the coronavirus pandemic. Though we can't reach our Cooking Matters students with in-person programming, we have transitioned to a virtual learning model paired with socially-distanced food distribution called Cooking Matters at Home.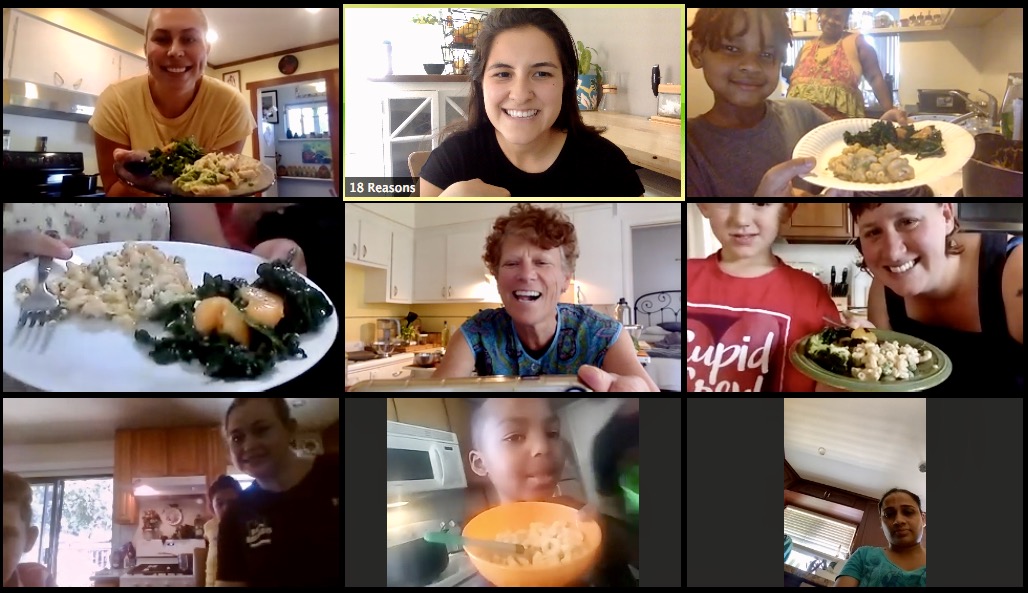 You can check out the content we're making for home cooks as they shelter in place on our YouTube channel. We also post cooking and nutrition tips on our Instagram and Facebook pages, and we offer live, interactive classes for our Cooking Matters at Home students each week.
Although today's news might be filled with uncertainty, we are absolutely sure that the need for good food in our community is greater than ever. To meet the increased demand for food assistance caused by the coronavirus crisis and the surge in unemployment, we have expanded our food distribution program to help our neighbors in need put food on the table. We are now providing more than 16,500 lbs. of fresh, healthy food each month for our community. If you'd like to support our Cooking Matters at Home and food distribution programs, you can make a donation here. Your generosity fuels our mission. 
Each Cooking Matters class series is facilitated by a teaching team led by an 18 Reasons staff member. The three teaching team roles are Cooking Educator, Nutrition Educator, and Class Assistant. You don't have to have a professional background as a chef or nutritionist to volunteer with us – if you are passionate about healthy food and eager to share your skills and knowledge, we welcome you as a volunteer. Click here to learn more about volunteering with our Cooking Matters program.
Host a Cooking Matters series or event at your agency:
We are currently seeking new and returning host site partners, who are the community organizations we partner with to bring Cooking Matters to their clients. Through Cooking Matters, we serve more than 3,500 low-income and food-insecure families throughout San Francisco County, Alameda County, and Contra Costa County. Our host site partners include many different agencies serving low-income residents, such as community clinics, low-income housing sites, public schools, food pantries, and more. If you represent an organization interested in hosting Cooking Matters classes for your community, please click here to learn more about hosting Cooking Matters at your agency. Host site partners are responsible for recruiting participants, and 18 Reasons brings the food, teachers, and curriculum needed for interactive, hands-on cooking and nutrition classes. During the coronavirus pandemic, we have shifted to a virtual learning model called Cooking Matters at Home. We are able to take on new partners to offer Cooking Matters at Home to your clients as they stay at home.
Many thanks to our funding partners: 
Share Our Strength
The CA Department of Food & Agriculture
The San Francisco Department of Public Health
The City of Oakland Sugar-Sweetened Beverage Tax Fund
The California Wellness Foundation
Kaiser Permanente
The Healthy Berkeley Program
Contra Costa Health Services
UC Davis School of Medicine
The UCSF Culinary Medicine Program
The Bella Vista Foundation
No Kid Hungry
The UNFI Foundation
The Irving Foundation
The Trio Foundation
The Sprouts Healthy Communities Foundation
The Clif Bar Family Foundation
The Junior League of Oakland-East Bay
The Safeway Foundation
The Bay Area Dietetics Association
---
The Cooking Matters curriculum was created by Share Our Strength,
a national nonprofit dedicated to ending childhood hunger in America.
Nonprofits across the country use Cooking Matters to
teach valuable skills in vulnerable communities.
18 Reasons is proud to be the lead partner for Cooking Matters in the State of California.