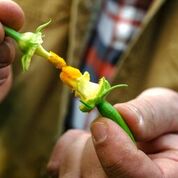 A multi-course dinner with wine included. This is not a cooking class.
Join us for a meal and conversation celebrating innovation and storytelling from seed to table.
Bi-Rite Farm has been working with Row 7 Seed Company to bring delicious new crops to the Bay Area. With a focus on flavor and the chef-farmer-breeder connection, Row 7 is breeding vegetables and grains that bring a new awareness to the field, the kitchen and the table. The menu will showcase new and experimental vegetables—all bred for flavor. We are pleased to have Charlotte Douglas, COO of Row 7 Seed Company, join us for this special meal and conversation with our farm manager, Layla Aguilar, and Bi-Rite founder, Sam Mogannam.
MENU
Raw shaved Badg​er Flame beets, 7082 cucumbers and radishes, Meyer lemon, dill, crème fraiche, beet jus
Roasted Koginut and 898 squash, labne, black lime, toasted seeds, pumpkin seed oil, pomegranate, fennel frond
Chicory salad, heirloom apples, Row 7 squash "croutons," Katz apple cider vinaigrette
Roasted Badger Flame beets, saladette tomatoes, shishito peppers, sheep's milk ricotta
Braised pork shoulder, Hopi blue corn polenta, Row 7 Trial Snow Peas, blistered Habanada peppers, red mizuna
Ginger bread, 898 squash ice cream, salted caramel, toasted almonds, whipped cream
*menu subject to change due to seasonal ingredient availability
**If you have any allergies or restrictions, please inform us at info@18reasons.org. The earlier we know, the better we are able to plan and take care of you!
Founded by Chef Dan Barber, vegetable breeder Michael Mazourek, and organic seed grower Matthew Goldfarb, Row 7 Seed Company works alongside chefs and plant breeders to create, trial and distribute delicious new plant varieties that make an impact in the soil and at the table. Prior to serving as the Chief Operating Officer at Row 7, Charlotte Douglas spent ten years at Blue Hill, where she spearheaded creative and culinary initiatives that explore issues of agriculture and the environment through the lens of flavor. Charlotte received a BA in History and Literature from Harvard University.
Layla Aguilar manages a three acre farm for Bi-Rite Markets in Sonoma, CA.  She grew up in Los Angeles and attended UC Santa Cruz, graduating with honors in Women's Studies. After graduating, Layla spent several years working with children in garden and farm settings before attending the CASFS apprenticeship at UCSC.  She worked two seasons as Assistant Miller for Olive to Bottle, the first mobile olive mill in the US, spent a season farming in upstate New York, and helped her friend start a family farm in western Virginia. In 2013, she landed back in Sonoma County.  The past six years with Bi-Rite Farm has allowed her to grow immensely as a farmer, with everyday being an exciting new challenge.  She is passionate about issues of climate change and how agriculture plays a role in either mitigating or perpetuating the problem, as well as being an avid seed saving. Layla enjoys feeding people well, hiking the Sonoma County hills with her dog, and spending her winters dancing in the rain.
Sam Mogannam is the second generation owner of the Bi-Rite Family of Businesses in San Francisco. A San Francisco native, Sam graduated from City College of San Francisco's Hotel and Restaurant Management program before pursuing culinary arts in Basel, Switzerland, where he worked in a two-star Michelin-starred restaurant for a year. When he returned to the Bay Area, Sam honed his culinary skills at The Pasta Shop, the esteemed gourmet food shop in Oakland, California (now known as Market Hall Foods), before opening his own restaurant, Rendezvous du Monde, in downtown San Francisco at the age of 23. In 1998, Sam decided to return to the family business, renovating and reopening Bi-Rite Market as a new type of grocery store, one that featured fresh, farm-direct foods that were freshly-cooked and served with the hospitality of a restaurant from its own kitchen, which was located in the center of the store.
As an industry veteran, Sam has received many accolades for his work with farmers, producers and the Bay Area community including being inducted into the Specialty Food Association's Hall of Fame in 2018, being included on Forbes 2016 Small Giants list and recognized by Fast Company as one of its Most Creative People in 2012. 
Assisting Sam in the Kitchen is Preston Dishman, Food Service Director for the Bi-Rite Family of Businesses. Preston says growing up on a farm was a food blessing. Food was an integral part of NC farm life. Harvesting fresh corn, the first ripe wild strawberries, canning everything under the sun for the snowy winters. This foundation of good food helped him transition through kitchens quickly, from washing dishes, line cook, sous chef to eventually chef. His culinary journey took him from the mountains of NC and country clubs, to the best kitchens in NYC, the French Culinary Institute, and his own restaurants. During his 30-year career the experiences and format have changed dramatically but food has always been at the core, making people happy with food. He joins us from his most recent role overseeing food and beverage for a company that has 5 different concepts, in 6 different states and over 20 locations. When he isn't at home cooking, you can find him reading, painting, or playing basketball.