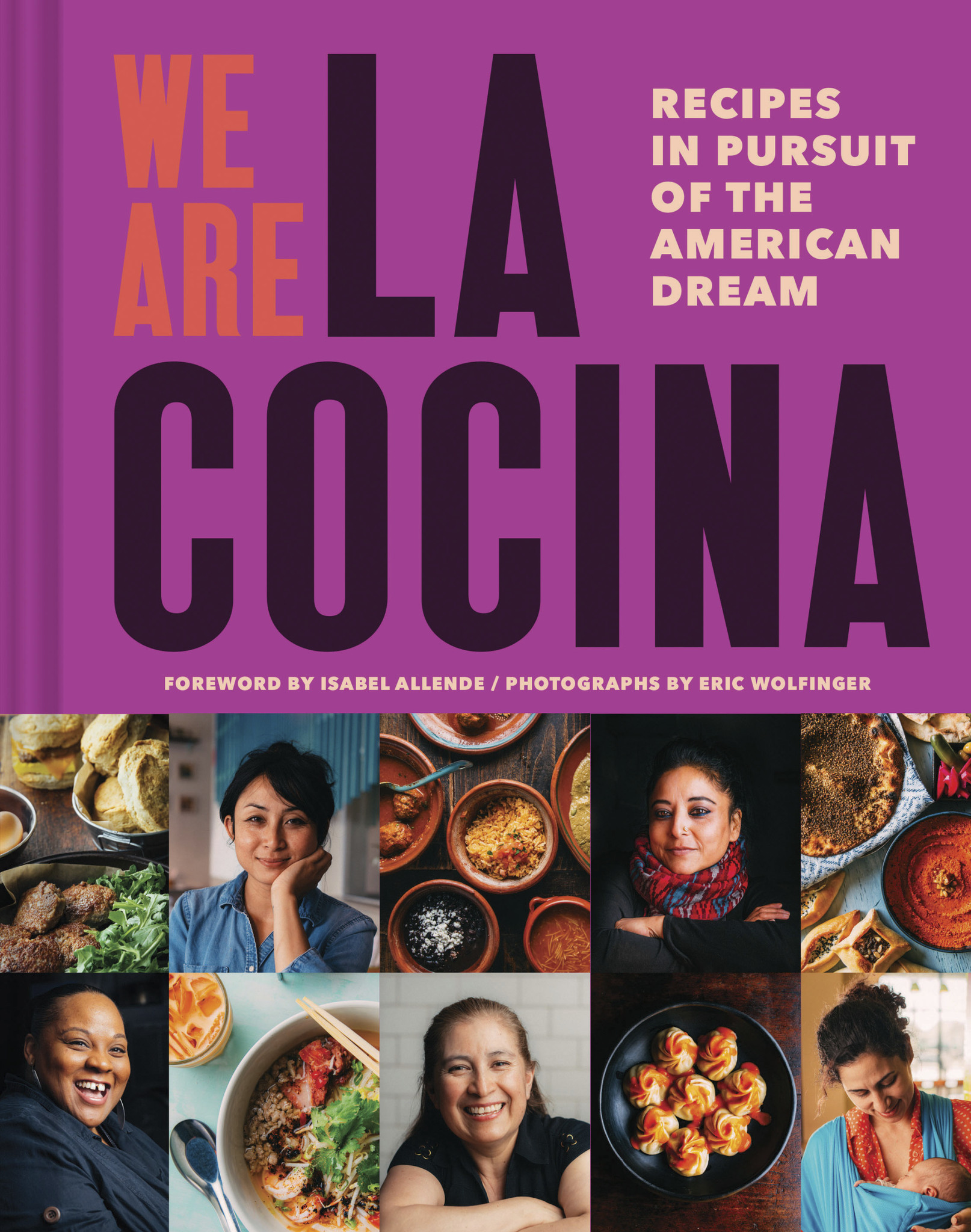 A seated dinner with Hang Truong of Noodle Girl. La Cocina's cookbooks will be available for purchase. Wine and beer will be available for sale, or you may BYOB wine and beer.
Noodle Girl's delicious Vietnamese food is heading toward our tables and we invite you to take a seat! Noodle Girl is a modern Vietnamese food concept born in the San Francisco Bay Area, straddling traditional Vietnamese food fused with California-fresh and light tastes. Hang Truong's food features garden-fresh produce, bright flavors, and high-quality ingredients. Her cooking is inspired by her childhood memories of her mother's noodle shop in southern Vietnam.
Hang is cooking up a feast with our long-time instructor, Linda Tay Esposito. When Linda isn't teaching at 18 Reasons, you can find her working on La Cocina's Municipal Marketplace in the Tenderloin. Together, we'll be celebrating the publication of La Cocina's cookbook, We are La Cocina: Recipes in Pursuit of the American Dream. The book chronicles La Cocina's growth into the organization it is today—globally admired and profoundly influential—through more than 75 recipes and stories from more than 40 successful alumni of the kitchen incubator. Copies will be available for purchase during the dinner.
MENU
Appetizers:
Mực nướng sa tế: Grilled Spicy Lemongrass Squid 
Phở Bò: Stew of Beef Shank with Cinnamon, Fennel and Star Anise *
Gỏi Cá Tuna: Ahi Tuna Salad with Asian Herb Salad
Main:
Cá Kho Tộ: Caramelized Salmon in Claypot *
Thịt Ba Chỉ: Braised Pork Belly with Mắm Nêm Anchovy Sauce
Pumpkin Leaves Stir Fry 
Cơm Niêu: Claypot Rice
*indicates recipes from the cookbook
**if you have any allergies, please contact info@18reasons.org. We will do our best to accommodate special requests, and appreciate when given several days notice.
Hang Truong has a deep connection with the noodles and soups of her native country. Growing up in the south of Vietnam, Hang began working in her mother's noodle shop when she was just ten years old. Each morning was focused on serving noodles, and Hang painstakingly learned the art of creating appetizing noodle dishes. Hang's culinary journey was complemented by her completion of hospitality training in renowned hotels and restaurants, working through just about every position and appreciating the impact of good customer service from each of them. Hang's love of cooking continued as a fabric in her life as she married and moved to the U.S. But it was the necessity of caring for her husband during serious illness that prompted her to explore healthy cooking like never before, combining the nurturing dishes she had learned so early in her life with fresh vegetable-forward, highly nutritious ingredients. Visit Noodle Girl here.
Linda Tay Esposito is teaching chef whose food represents a tribute and a commitment to the authenticity of the cuisines of the Pacific Rim.  For the last 15 years, Linda has shared her passion and knowledge of South East Asian cuisine in the Bay Area and her work had been featured in KQED Bay Area Bites, the New York Times, etc. Linda taught at the The Cooking School at Cavallo Point and at Sur La Table Cooking School, and was a lead chef at Parties That Cook where she taught global cuisines in a team building setting. She started her teaching career at Whole Foods Market. Most recently she was the head of operations and chef at Bay Area's artisan tofu maker, Hodo. She currently leads the development of La Cocina's municipal marketplace – using food as a creative approach to economic development by offering affordable, healthy food options and safe spaces while providing assessable business opportunities for low income, immigrant, women food entrepreneurs. She writes a food blog at www.flavorexplosions.com and you can follow her on Instagram @flavor_explosions
La Cocina is a nonprofit business incubator dedicated to supporting talented, working-class food entrepreneurs, primarily immigrant women and women of color, in building successful food businesses in the San Francisco Bay Area. La Cocina's vision is that everyone will be able to make a living doing what they love to do. It supports the development and recognition of good food and foodways from all over the world as a kitchen incubator—La Cocina means "kitchen" in Spanish— helping to develop food products, restaurants, food trucks, and food stall concepts. More so, La Cocina is an eloquent and powerful voice on social justice, inclusion, and equity for entrepreneurial women of color and recent immigrants to the United States. Visit La Cocina here.