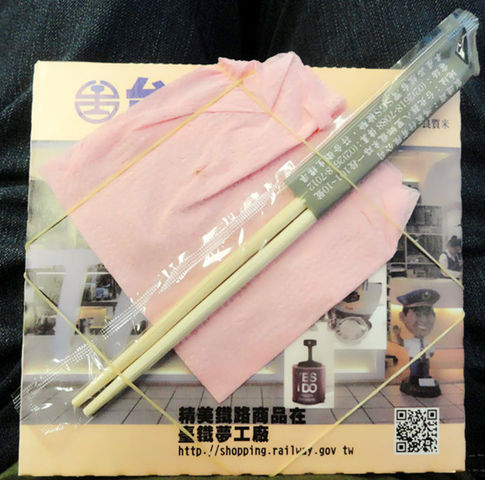 Henry Hsu and Valerie Ng cooked 18 Reasons' first pop-up dinner of Taiwanese classics last year. This month, they're back with another nostalgic Taiwanese meal: bento, or bian dang, a comforting one-dish meal of braised pork belly, vegetables, hard-boiled egg, and rice served in a box. Bento boxes are a quintessential part of train journeys around the island. Though bentos originated in Japan, they arrived in Taiwan during the 50-year Japanese occupation from 1895-1945, when the country's national railway was also constructed. Since that time, bento boxes, a convenient meal for train travel, continue to be a fixture of train stations throughout Taiwan, although these days you can even find them at restaurants and convenience stores. For many Taiwanese, bento meals can evoke memories of the train journeys of their childhood. Although Henry grew up in the States, he has an affinity for the Taiwanese Railway Bento, from childhood memories of traveling in Taiwan by train, and because his grandfather worked for the the National Taiwan Railway; he spent a lot of time visiting his paternal family's house heavily centered around all things rail related!  
MENU
Taiwanese Bento with pork belly, seasonal greens, hard boiled egg, rice
*A vegetarian version of the bento is available with braised yuba substituting for the pork belly. Please contact us at info@18reasons.org at least a week in advance to request.
Henry Hsu is a former architect, anthropologist, designer & public health advocate who slowly came to the food world through an equally circuitous geographic manner. Born in Taiwan, raised in Texas & educated in Iowa, his gastronomic predilections range from rice porridge for breakfast, chili con queso midday to chicken fried steak by night.
While living in Ecuador as an architect, Henry was known for his dumpling making skills, and eventually started a small catering company. He decided to immerse himself in the food world and to return stateside. He now spends his days working for local tofu maker, Hodo, and spends all of his free time working with food in other ways. He continues to cater small events and teach dumpling making classes under the auspices of Oramasama Dumplings, leads food tours around the Bay Area for Edible Excursions, as well as gets farmers' market time working the stand at the Ferry Building for Green Gulch Farms when they are in season!
Valerie Ng is an account manager at Hodo Foods, the Bay Area's organic tofu purveyor, and a frequent volunteer at 18 Reasons, where she has also cooked several tofu-focused pop-up dinners alongside her colleagues from Hodo. Her interest in food began during her study abroad days in Spain and France, where she ate her way through the local specialties. Several years after that seminal experience, a heritage trip through China, Hong Kong, and Taiwan inspired her to share the cuisines of the Chinese diapora with others. She has worked as a culinary assistant at various cooking schools in the Bay Area for many years, helping students as they acquire new skills in the kitchen. You can follow her culinary adventures on Instagram: @valerieng317. 
ABOUT COMMUNITY DINNER
Once a month, we open our doors to friends new and old, welcoming all to our share a table and a delicious meal. Every month is something different, but it's always $15 and always tasty. Wine and beer are for sale at the event. Kids welcome! 
For our second seating at 7:30 pm, please click here.
Photo By BreakdownDiode - Own work, CC BY-SA 3.0, https://commons.wikimedia.org/w/index.php?curid=29316953