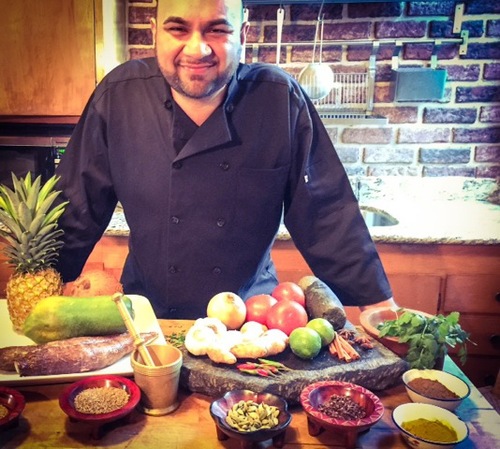 A four-course dinner. Guests are welcome to BYOB wine and beer. Bottles of house wine available for purchase. 
Bula! Come and enjoy and evening with Fijian food, friends, and Taki!
Bula (boo-lah) is a Fijian word that has a variety of meanings and uses. Its literal meaning is "life," and, when used as a greeting, it implies wishes for continued good health. And Taki is a special means to meet this end.
Traditionally, taki is shots of kava, a ceremonial drink from the Fiji Islands to help you de-stress with friends and family after a long day. We'll be brewing some kava to start the dinner, which features Indian Fijian flavors. This fusion of spices (think cumin, mustard, etc.) and island ingredients (coconut, taro, cassava) are a product of the immigration of Indian laborers to the Fijian sugar plantations in the 1800s. Please join us - along with Chef James Raven Chand of Curryous Catering - in this four course meal of family recipes and the tradition of Taki!
Welcome Drink
Bula! Taki Kava Shot
1st Course:
Fish Kakoda
Ceviche in coconut milk, lime and chili, served with taro chips 
2nd Course:
Bula Prawns
Grilled prawns with garam masala, tumeric and lime
3rd Course:
Mutton Palusami
House-corned lamb with coconut milk wrapped in taro leaves, served with miti (coconut sauce) & steamed tavioka (cassava)
Island Relish: mango, onions, tomato and citrus 
4rd Course:
Vakalavalava 
Shredded tavioka (cassava), squash, banana and coconut steamed in banana leaves, served with caramel sauce & Bi-Rite Creamery ice cream 
*We welcome and can accommodate vegetarian + vegan diners to this pop-up dinner. Please email info@18reasons.org to let us know how many in your party are requesting a vegetarian or vegan meal.
From the time James Chand was a very young child, he has had a deep love of food—specifically the flavors of India and Fiji. His family, who were from the Fiji Islands, were all excellent cooks and kept him nearby in the kitchen from a very young age. By the time he could hold a spoon, he was helping cook for family events. One day, on a whim, a friend asked James to cater a birthday party. James obliged, and the food he cooked—all traditional Fijian-Indian dishes—was a huge hit. Soon, more friends (and friends of friends) began asking James to cater their affairs, and it became clear to James that he had found his true calling. He left his job in corporate sales, and set about founding a catering company. You can visit Curryous Catering by clicking here.