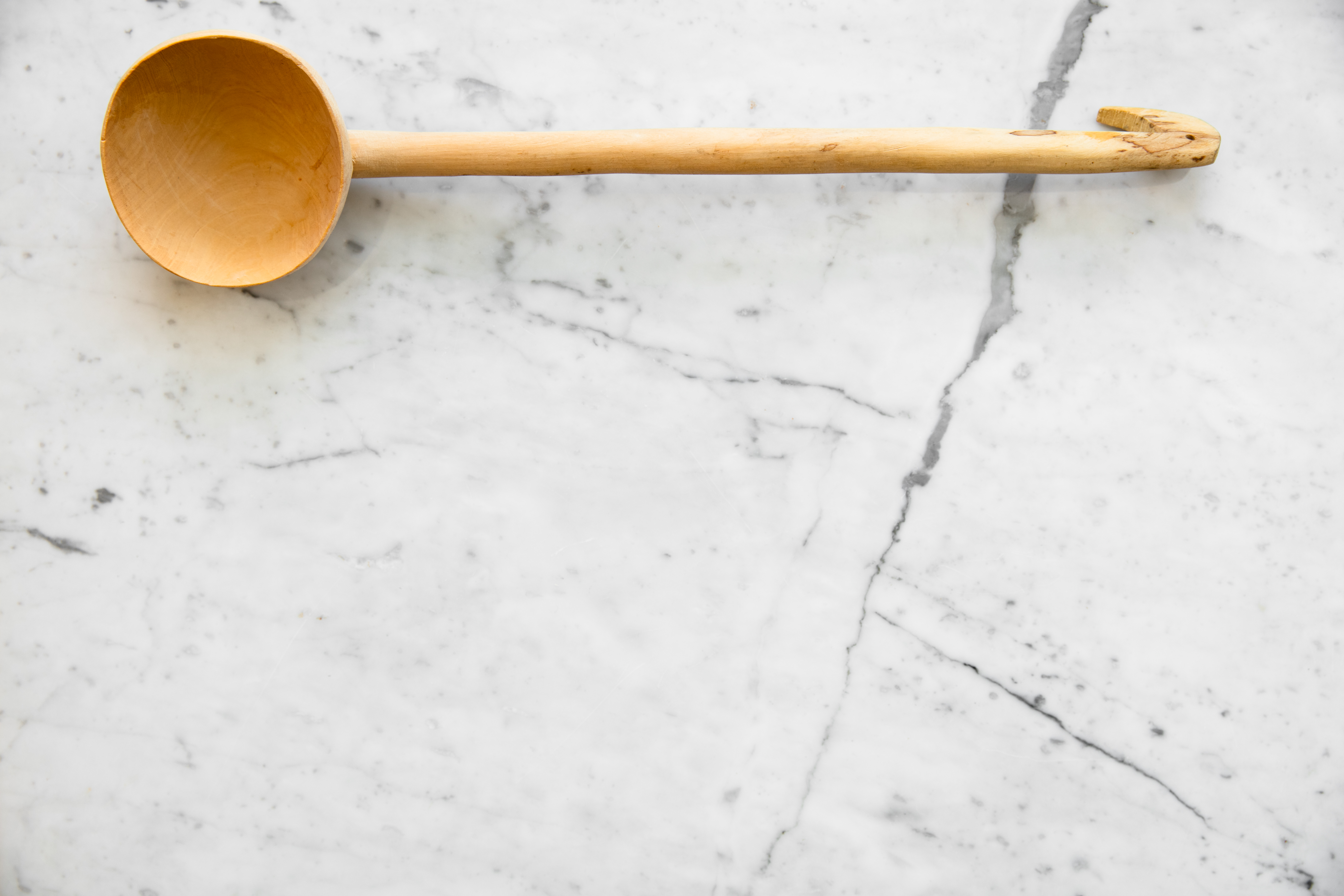 We kick off 2019's Community Dinners with a big bowl of nourishment from a new chef in our kitchen! Annie visited a Community Dinner in 2018 and her introduction to 18 Reasons inspired her to reach out to us and offer her skill in our kitchen. Her choice to cook chicken matzo ball soup is an homage to her childhood and an offering of warmth and nostalgia to guests at our table. 
In Annie's words: Chicken soup is balm to the heart. Whether caldo verde, samgyetang, or ajaico, people around the world surrender to its steam. I chose matzo ball soup for my first community dinner because I have so many memories in my own Jewish family, and with many friends, around this particular dish: countless Passovers at my Grandparent's house, us kids trying to find the hidden matzo; an actor friend with a sore throat needing to heal before the next night's show – "Annie, can you make me the soup?!" I know things are getting serious with a lover when we stay at home shredding chicken together, as I explain why he cannot, under any circumstances, remove the lid of the pot as the matzo balls cook. The soup is something like witches brew: vegetables, herbs, bones and meat breaking down in a cauldron. The magic of matzo ball soup has brought many people in my life together: it has made introductions, paused disputes, healed wounds, and celebrated milestones.
Annie will be assisted by friend and baker, Danny Ernst, who will be making challah and coconut macaroons to complement her soup.
MENU
Chicken Matzo Ball Soup
Challah
Coconut Macaroons
A San Francisco native, Annie Obermeyer grew up in a family who loved to eat and cook in this vibrant food mecca of a city. Since childhood, storytelling, food, and Zen Buddhism were the three legs of Annie's barstool and remain so to this day. While working at the Public Theater in New York, Annie started her own private chef business called Impossible Tomato, the name her Italian teacher gave her as a child – the shoe fit! Shortly after that, Annie lived, studied, and cooked at San Francisco Zen Center for three years. There, she learned what cooking mindfully truly means. Annie spent the summer of 2018 as a guest cook at Tassajara Zen Mountain Center. This past fall she cooked for a group of spectacular playwrights as resident chef at SPACE on Ryder Farm, an artist in residency program on the grounds of a 223-year-old working organic farm in Putnam County, New York. Annie believes that food has the power to transform, heal, unite, and delight. She is thrilled that nourishing others allows her to explore life fully through myriad lenses. By gathering around a table, we discover the world, ourselves, and each other.
At University, Danny Ernst earned bachelor's degrees in both Electrical Engineering and Double Bass Performance. After working as a musician and guitar teacher in the Bay Area for several years, in 2012 he moved to Tassajara, a branch of San Francisco Zen Center located deep in the mountains east of Big Sur, to immerse himself in Zen Buddhist practice and study. There he became the bread baker, and quickly learned the delights of cooking and baking along with Zen Buddhist practice. He went on to manage the kitchen at Tassajara and at the temple located in Hayes Valley. His baking is an expression of joy, laughter, refinement, and love. He currently works as a baker at Butter Love Bakeshop in the Outer Richmond neighborhood of San Francisco. 
ABOUT COMMUNITY DINNER
Once a month, we open our doors to friends new and old, welcoming all to our share a table and a delicious meal. Every month is something different, but it's always $15 and always tasty. Wine and beer are for sale at the event. Kids welcome! 
For our first seating at 6 pm, please click here.