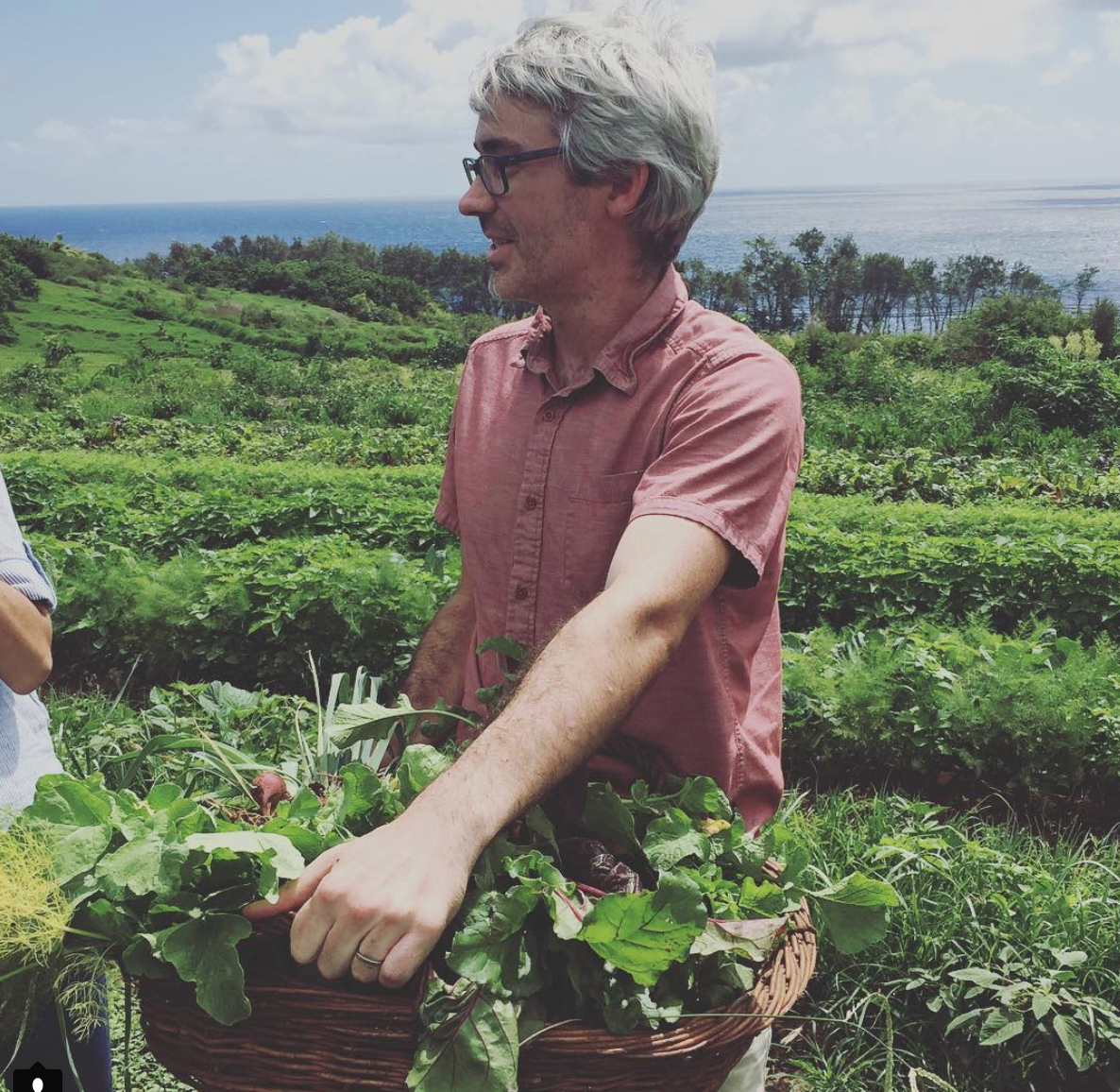 A four-course dinner. Guests are welcome to BYOB wine and beer. Bottles of house wine will be available for purchase. 
As we close the month of our 10th Anniversary Celebration, we are excited to welcome back a chef who was an foundational part of 18 Reasons. In our original home on Guerrero and 18th, Morgan Maki taught butchery classes and cooked dinners for our guests, as well as serving customers behind the deli counter as Bi-Rite Market's butcher. Returning back to the Bay Area after a few years in Hawaii, we are eager to taste Morgan's delicious food again and to share a part of our history with those have joined our community since his departure nine years ago. Enjoy a meal featuring the best of summer's bounty, and between courses, hear a few stories of Morgan's memories of the early days of 18 Reasons and his personal food journey.
MENU  
First Course: Stone fruit with Fennel and Endive, served with a Grilled Corn Vinaigrette
Second Course: Cured King Salmon with shaved Cucumber and Radish, served with Pickled Shallot, Crème Faiche and Fresh Herbs
Third Course: Rabbit Roulade with Favas, Peas, New Potatoes and a Walnut and Roasted Pepper Sauce  (Vegetarian substitution: Roasted wild mushrooms with shallot, thyme and garlic. Please e-mail us ahead of time if you will require a vegetarian meal, so we can plan accordingly)
Fourth Course: Cherries in Gastrique with Fresh Sheep's Milk Ricotta, Blueberries and Almond Shortbread
*Menu subject to change due to ingredient availability** Any allergies and sensitivities should be emailed to info@18reasons.org as soon as possible. We will do our best to accommodate with prior notice.
Morgan Maki is a seasoned food system professional who is passionate about building strong communities around local food systems and teaching the story of how good food comes from a healthy environment. As the Director of Food Ecosystems and Retail Partnerships at Bio-Logical Capital, Morgan leads the team's efforts in the assessment and implementation of new food and retail businesses and projects. Morgan also develops strategies that add long-term value to their work by incorporating environmental impact and vertical food system integration into business planning, and builds effective operational systems for running businesses that are fully engaged in the food system.
Morgan also works as a member of the management team at Urban Villages. Previously, Morgan served as a member of the operations team for Bi-Rite Market in San Francisco, and helped to create a non-profit food education space, 18 Reasons. Morgan attended New England Culinary Institute and has spent many years managing fine dining restaurant kitchens in Boston, Montana, and San Francisco.