Community Dinner: Nyonya Chicken Curry (Second Seating)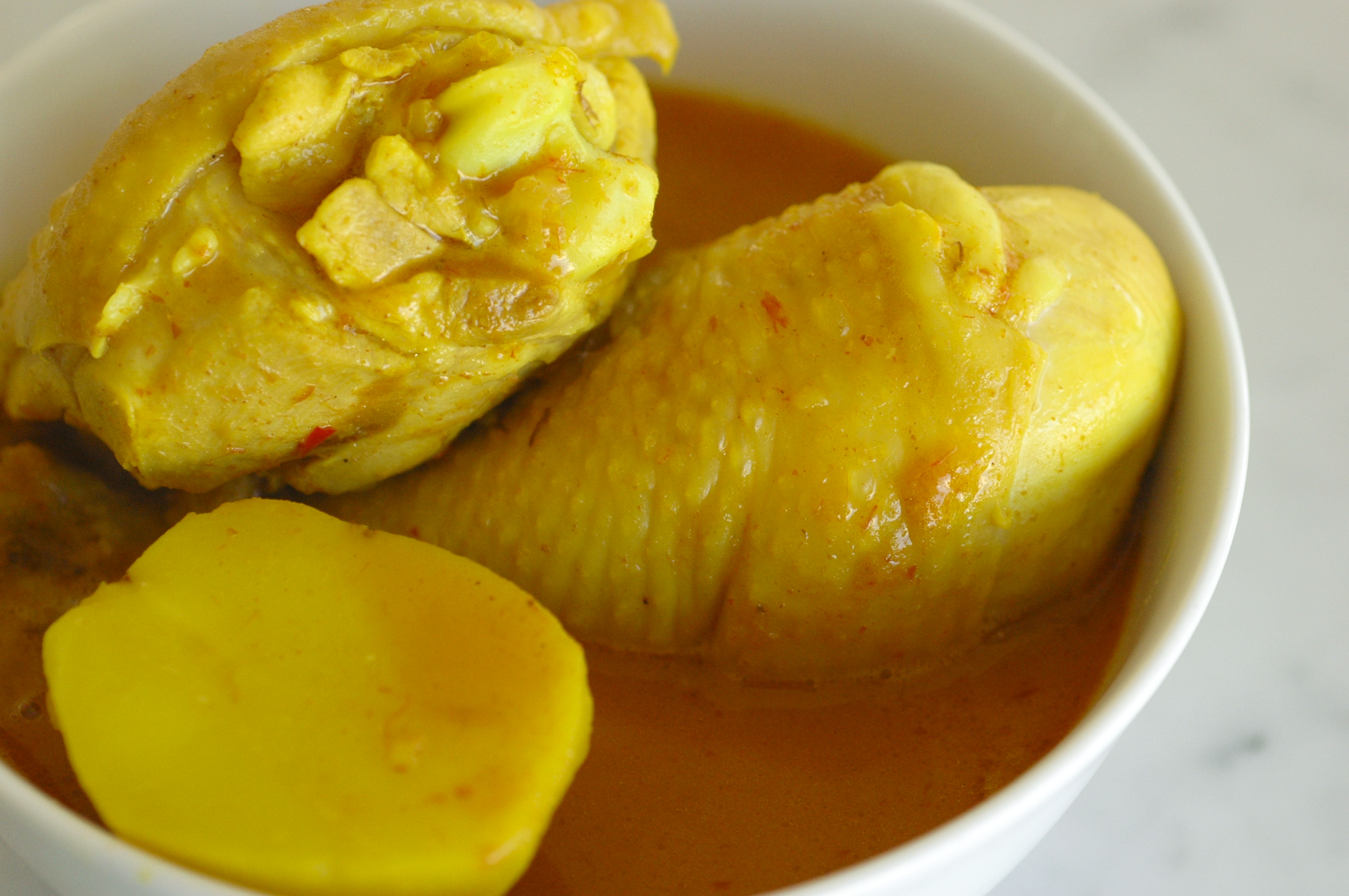 One of our teachers' family history comes alive in February's Community Dinner. Linda Tay Esposito recalls the scent of fenugreek and tumeric in her grandmother's house, watching her roast spices on a yard-wide wok over charcoal, and assisted her with the curry powder that is the foundation of this meal. As a child, Linda and her sisters helped their grandmother fill recycled ketchup bottles with this powder to be sold. Her grandmother would always cook a big batch of this curry for significant family events: Chinese New Year, Baby's Full Moon, and birthdays. While Linda's grandmother was not Nyonya from birth (a term for decendants of Chinese migrants who settled and intermingled with Malays), she was "adopted" into a Nyonya family as a little girl to serve as the family helper. She learned to cook Nyonya food from the family's matriarch and eventually married the son of the adopting family. 
Beside the chicken curry, the dessert is also a family story: Linda's grandmother made kuih (Malaysian steam cakes) for sale, and her son (Linda's father) sold the cakes after school.
We hope you gather with us around this delightful meal, and share your own stories of dishes your family loves to cook and gather around. This meal and our Community Dinner tradition is the essence of our core values: serving you all a delectable meal, learning from one another's histories, including as many voices (young and old, new-comers and regulars) around our table as possible, and creating the heart-warmth that a family favorite dish provides.
MENU
Chicken Curry with Nasi Kunyit  - Turmeric Sticky Rice
Kuih Bengka - Cassava Cake
**Want to learn how to make these dishes? Join us on March 18 for a four-hour long class featuring these two dishes and more.**
Linda Tay Esposito is a self-taught chef whose food represents a tribute and a commitment to the authenticity of the cuisines of the Pacific Rim. She grew up in Malaysia, lived in China and Hong Kong and traveled extensively in the region exploring the vast culinary offerings and traditions, and capturing the essence of the local cuisines. She brings these exciting flavors, passion and knowledge to the classroom. Her style of teaching makes even the most complex of curries simple to make and a gastro-adventure experience of "Flavor Explosions."
A freelance culinary educator, Linda teaches at the The Cooking School at Cavallo Point and at Sur La Table Cooking School. Previously, she was a lead chef at Parties That Cook where she teaches global cuisines in a team building setting.  She started her teaching career at Whole Foods Market Culinary Center. Most recently, she was head of operations and chef at Bay Area's artisan tofu maker, Hodo Soy. She writes a food blog at www.flavorexplosions.com
ABOUT COMMUNITY DINNER
A monthly tradition, we open our doors to friends new and old, welcoming all to our share a table and a delicious meal. Every dinner is something different and always tasty. Wine and beer are for sale at the event. Kids welcome! 
For the first seating that begins at 6 pm, click here.
(Photo courtesy of Linda Tay Esposito)