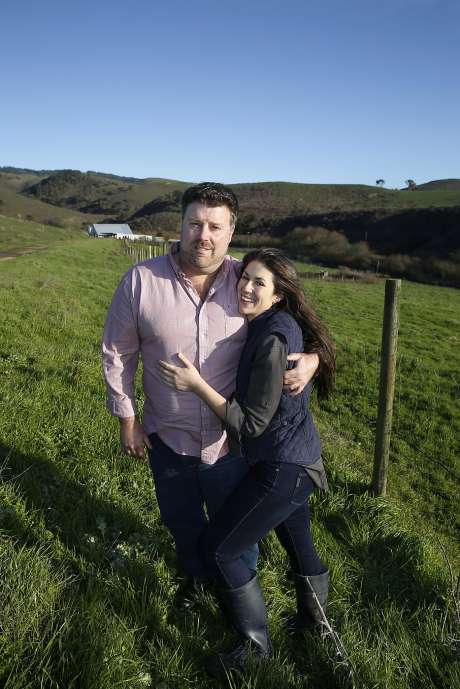 A three-course dinner with a group discussion led by two guest speakers. Wine and beer will be available for sale, or you may BYOB wine and beer.
We are pleased to welcome Claire Herminjard and David Evans of Marin Sun Farms and Mindful Meats to join us at our table and feed our community with their quality meat and stories of their experiences. Both have passion for the health of the meat they are bringing to market, as well as empowering the family farms they work with, which are some of the many things that brought them together. The two married in May 2016, and merged the companies January 2017. Together, they raise a herd of grass fed mother cows and calves for Marin Sun Farms on their organic ranch in Point Reyes. They greatly enjoy projects like getting organic Mindful Meats into schools and hospitals, as well as providing unique and local Marin Sun Farms meats to the culinary world. Together they run the two brands Marin Sun Farms and Mindful Meats, as well as provide USDA inspected harvest and distribution for many private local farms through the Marin Sun Farms abattoir in Petaluma. They're visiting us on 18th St to share their stories and values regarding local sourcing, organic dairying, carbon farming, running their ranch, the importance of the rural-urban connection, and answering any questions you may have about their businesses.
Claire and David's products will be highlighted in a delicious family-style menu prepared by 18 Reasons' Chef Mike Weller. We hope you join us over the dinner table!
MENU
Appetizer:
Bò Tái Chanh – Vietnamese-inspired Steak Rolls, Stuffed with Aromatic Herbs and Vegetables, with Lime, Chili, and Fish Sauce
Entree:
Braised Beef Cheek, Silky Polenta, Broccoli Rabe, and Cherry Tomato Mascarpone Bruschetta
Dessert:
Honey Glazed Fig Tart, Cornmeal Crust, Lemon Ricotta Filling
*menu subject to change due to ingredient availability
David Evans was born and raised in West Marin and is rooted in the agricultural community as a fourth-generation rancher. Seeking a way to connect Bay Area residents with West Marin ranching, in 1999, he founded Marin Sun Farms as an extension of his upbringing on his family's cattle ranch in the Point Reyes National Seashore. Becoming a leader in grass fed meats, he has grown the company to be a gateway to market for many small farmers raising livestock under the stringent protocol and values upon which the company was founded. Marin Sun Farms offers the community delicious, well-raised grass fed lamb, beef, veal, goat, pasture raised pork, chicken, turkey, duck, eggs, and rabbit sourced from local and regional farmers, standing behind their motto that Local Food really does make for a Sustainable Future.
Claire Herminjard founded Mindful Meats in 2011 as a concerned consumer seeking wholesome organic beef. Her foundation in Social Entrepreneurship - using business as a tool for social good – was gained through her public policy studies at Duke University and her experience working for the internet services sector in San Francisco. Mindful Meats uniquely is from mature dairy cattle, who are raised on the pastures of Marin and Sonoma counties and are certified organic. Claire is proud that Mindful Meats is the first Non-GMO Project Verified beef company in the United States, has become recognized in the culinary world for being the first beef company to exclusively offer mature beef – or beef from older cows -, but is most fulfilled by their Public School Lunch Program, which offers organic Mindful Meats affordably into lunches of school districts such as Oakland Unified.
Born in the Haight Ashbury neighborhood of San Francisco, 
Mike Weller
 grew up in suburbs of San Jose, where he discovered cooking as his first profession and lifetime passion. After wandering through typical teenage jobs at pizza joints and ice cream parlors, Mike's first "restaurant" job was with Sambo's Coffee Shops, slinging hash and cooking eggs for the bar rush and Sunday breakfast crowds.  He moved on to help open several restaurants, attend the California Culinary Academy, and study under European chefs with Michelin backgrounds. Later, Mike served as an executive chef for catering companies, wineries and country clubs.  When his son was born, Mike transitioned his career into teaching, returning to the CCA where he eventually became the Executive Chef and Director of Academics.  Having taught for Le Cordon Bleu North America in both online and brick and mortar schools, Mike is thrilled to return to teaching in a neighborhood-based community.  When he is not teaching he tends to his backyard garden, helps his wife to can and preserve food, and loves to cook for his friends and family.