Flavors of Korea: Kimchi Gimjang and Bojagi Wrapping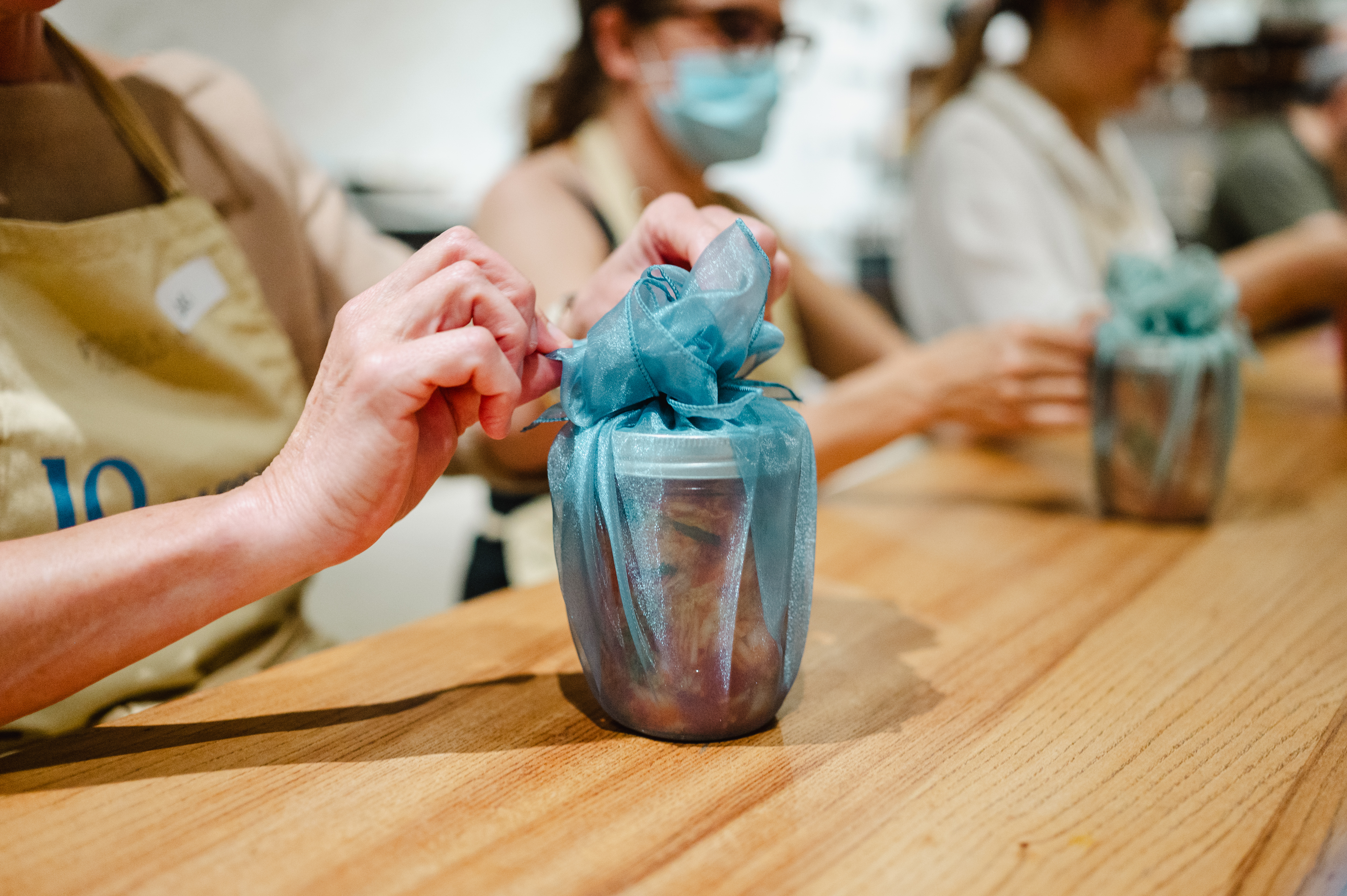 A hands-on in-person cooking class culminating in a dinner served with wine and beer. This class is limited to 12 students. See our registration policies here and our rules for in-person events here.
One jar of kimchi is packed with delicious probiotics, but is also a great labor of love. Share that labor with your fellow classmates and your instructor, Elise, at a gimjang gathering to make a giant batch of kimchi! In traditional gimjang style, we will also create a feast paired with banchan, or Korean side dishes, and deliciously simmered pork belly wraps to complement your freshly made kimchi. Class will culminate with a family-style dinner where we will all celebrate the evening's hard work! We'll all wash down the meal with a refreshing glass of Sujeonggwa, a Korean cinnamon punch. 
This class will be yet another collaboration between 18 Reasons' Chef Elise and Jessica Ann of Nikoniko Gifts! Not only will you create a delicious and auspicious meal, Jessica will teach you the tips and tricks behind proper Korean Bojagi wrapping so you can take home your own gorgeous jar of kimchi. 
 
MENU
Mat (cut) Kimchi - plus a jar to take home
Bossam - Boiled pork belly wraps with:
Doenjang ssam sauce - fermented soybean paste
Japjae - Sweet potato glass noodles with vegetables and mushrooms
Buchujeon - Garlic chive pancake
Sujeonggwa: Korean cinnamon punch
Served with steamed rice
Bojagi Gift Wrapping: demo, instruction, and fabric provided by Jessica Ann
This menu contains the following common allergens: Soy, Wheat, Shellfish, Eggs. If you have allergies or dietary restrictions that concern your ability to cook along, please e-mail info@18reasons.org before purchasing a ticket.
Let's Cook Together! 
Born and raised in Colorado, Elise Hayashi grew up in a family where knowing how to use a paring knife was more important than riding a bicycle. This sparked her passion for food and cooking at an early age, and she enthusiastically relocated to the Bay Area to study nutrition science at UC Berkeley. Outside of the classroom, Elise helped implement childhood obesity and exercise research, and worked as a pastry assistant to fill her free time with galettes and mousses. She also broadened her experience with food by studying and cooking her way through the Mediterranean diet in Italy, and working on an organic farm in Japan. Now, she is excited to merge her gastronomic backgrounds, and lean into her Japanese and Korean heratige to share her love of food with the 18 Reasons community. During the rare moments when she is not eating, Elise can be found trying out new sports, playing and listening to live music, or wandering the aisles of grocery stores and farmers' markets.
Nikoniko Gifts is a Japanese and Korean empowered gift shop owned by Jessica Ann that highlights and supports all Asian artisans from various backgrounds. You can read more about Jessica here! "Nikoniko" means to smile in Japanese and is written in both Japanese and Korean in the store's logo to represent the owner's two heritage and intent to provide joy through purposefully curated items. You can visit Jessica at the shop located at 2181 Union St, San Francisco, CA. 
Photo by Vincent Po