French Farmers Market: Ratatouille - In Person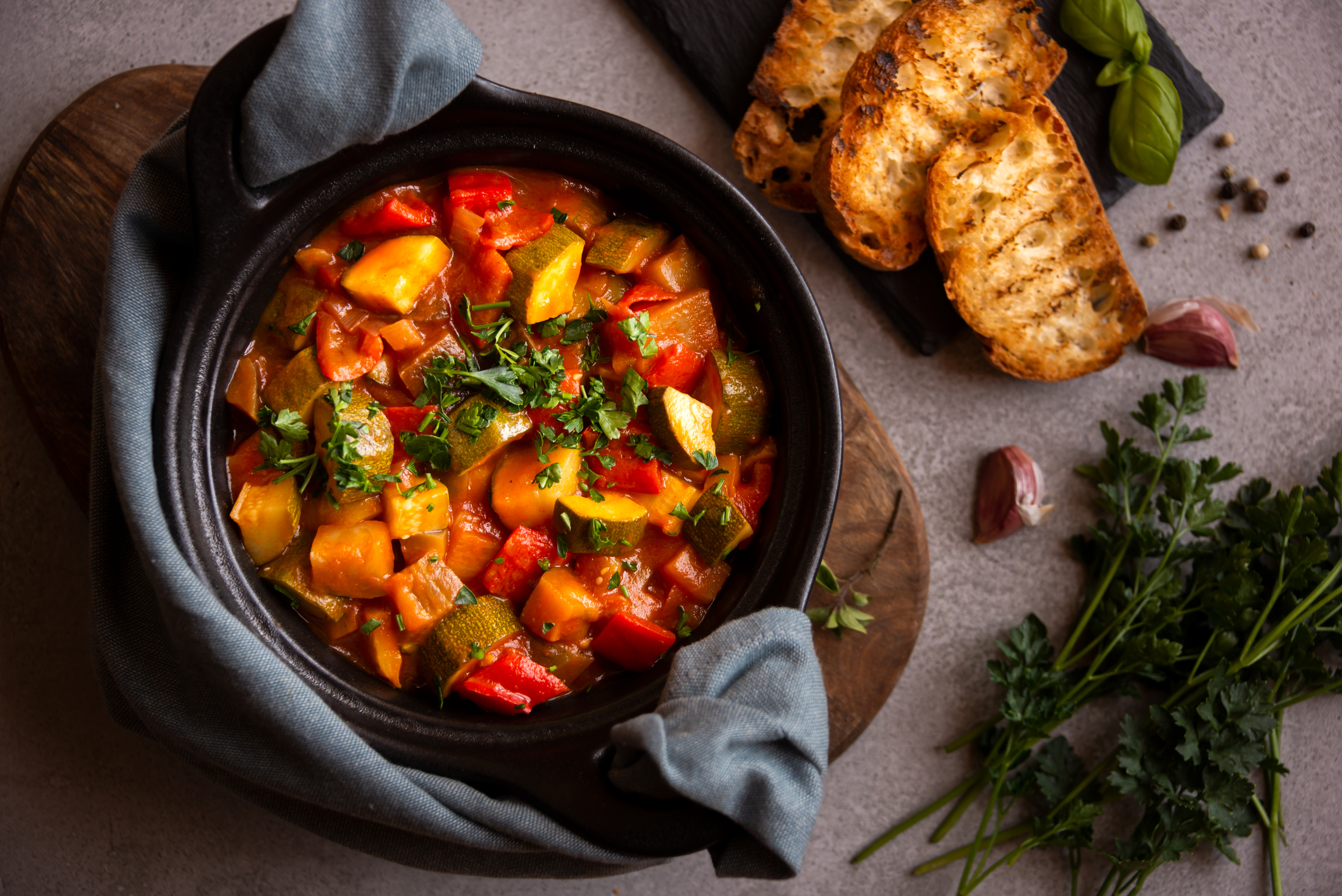 A hands-on in-person cooking class culminating in a dinner served with wine and beer. This class is limited to 12 students. Review our registration and cancellation policies here. 
 
Celebrate the best of summer produce in this French Farmer's Market class! Zoe chose classic, approachable recipes that take advantage of the best fruits and vegetables. 
First, the star of the show, the humble and delectable ratatouille. The name is a combination of "rata" meaning "a hearty stew" and "touiller" meaning "to stir." Ratatouille celebrates summer's vegetable bounty with a colorful combination of tomatoes, eggplant, zucchini, onions, bell peppers, garlic, rosemary and a generous amount of extra virgin olive oil, to create a true symphony of flavors!
We will also learn a French cooking technique called "en papillote." This creates a steam environment, perfect for cooking tender white fish that we will season with an herb and lemon-scented compound butter and a splash of vermouth.
The menu's appetizer and dessert feature peak summer fruit! The starter screams summer entertaining and a perfect way to use up those fresh farmer's market peaches. Crusty bread is an ideal vehicle for creamy sheep's milk ricotta, topped with sliced peaches, drizzled in honey and aged balsamic vinegar. The end of the meal is a festive blackberry galette with a cream cheese and thyme-scented dough topped with vanilla bean whipped cream!
Join us for a celebration of the season's best produce, French-style!
MENU
Grilled Bread with Sheep's Milk Ricotta Topped with Summer Peaches, Honey, Basil, Walnuts & Aged Balsamic Vinegar
Ratatouille—Bright Summer Vegetable Stew Rich with Olive Oil 
White Fish Cooked in Parchment Paper with Compound Butter & Vermouth
Blackberry & Thyme Galette with Vanilla Bean Whipped Cream
 
This menu contains the following common allergens: Fish, Tree Nuts, Dairy, Wheat. If you have allergies or dietary restrictions that concern your ability to cook along, please e-mail info@18reasons.org before purchasing a ticket.
Let's Cook Together! 
Zoé McLaughlin was born in Paris and raised in San Francisco. She graduated from Le Cordon Bleu in Paris and worked in restaurants in France while she wrote and published her first cookbook – a collection of family recipes influenced by her multicultural upbringing. She now lives in San Francisco, where she works in the non-profit culinary world and hosts online cooking demonstrations. She has a passion for bringing together the diverse flavors and culinary traditions of the Bay Area with the time tested techniques of classical French cooking.
Photo courtesy of Zoe McLaughlin