Flavors of Provence - In Person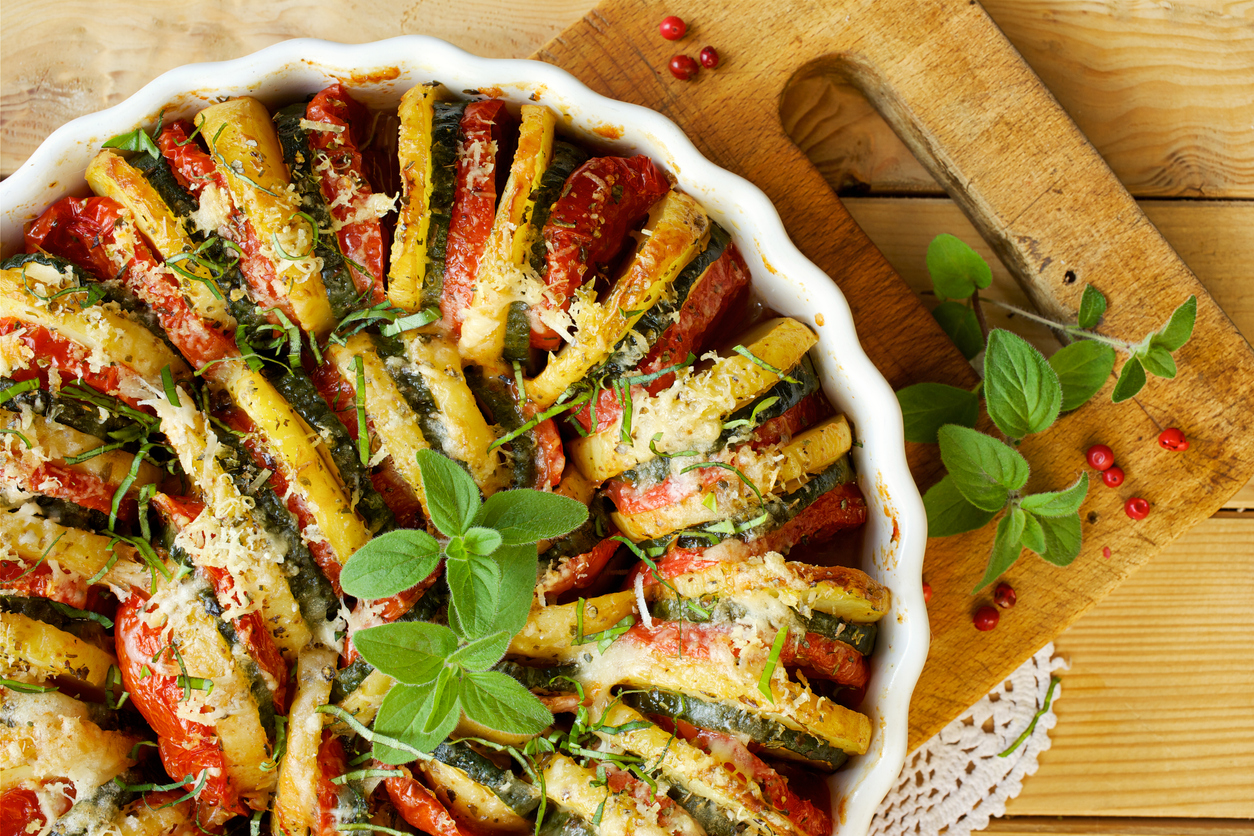 A hands-on in-person cooking class culminating in a dinner served with wine and beer. This class is limited to 12 students. Review our registration and cancellation policies here. Masks are REQUIRED for this class.
Located in the South of France, Provence is widely known for its rolling hills of lavender, vineyards of celebrated rosé, and port cities on the Mediterranean Sea. Join chef Zoé McLaughlin for a food tour of the region, as she highlights Provençal specialities and culinary traditions. 
Begin with Kir, a beloved apéritif drink made of blackcurrant liqueur and dry white wine, topped with a lemon twist. As an appetizer, you'll make a mixed olive tapenade with figs served with sheep's milk cheese on an olive oil crostini. 
The Herbes de Provence - rosemary, thyme, oregano, and lavender - shine through in a Summer Vegetable Tian. Caramelized onions cooked with herbes de Provence are topped with thinly sliced vegetables, creating a colorful circular pattern. Finally, the tian is topped with a dusting of nutty gruyère cheese and baked until bubbly and browned.
Venture to the bustling port city of Marseille on the Mediterranean coast, where you'll celebrate the flavors of the sea with a Braised Squid Provençal. Serve it with lemon and herb scented Fregola pasta for a perfect combination.
MENU
Kir—White Wine with Crème de Cassis, topped with a Lemon Twist 
Mixed Olive Tapenade with Figs Served with Sheep's Milk Cheese & Olive Oil Crostini
Lemon Scented Toasted Fregola Pasta
Braised Squid Provençal with Tomatoes, Olives, White Wine, Garlic, Lemon & Harissa From Marseille
Provençal Style Summer Vegetable Tian of Caramelized Onions with Herbes de Provence, Eggplant, Tomatoes, Yukon Gold Potatoes, Zucchini Topped with Nutty Gruyère Cheese
This menu contains the following common allergens: Shellfish, Dairy, Wheat. If you have allergies or dietary restrictions that concern your ability to cook along, please e-mail info@18reasons.org before purchasing a ticket.
Let's Cook Together! 
Zoé McLaughlin was born in Paris and raised in San Francisco. She graduated from Le Cordon Bleu in Paris and worked in restaurants in France while she wrote and published her first cookbook – a collection of family recipes influenced by her multicultural upbringing. She now lives in San Francisco, where she works in the non-profit culinary world and hosts online cooking demonstrations. She has a passion for bringing together the diverse flavors and culinary traditions of the Bay Area with the time tested techniques of classical French cooking.
Photo courtesy of Zoe McLaughlin