High Voltage Vegetables: Spring - In Person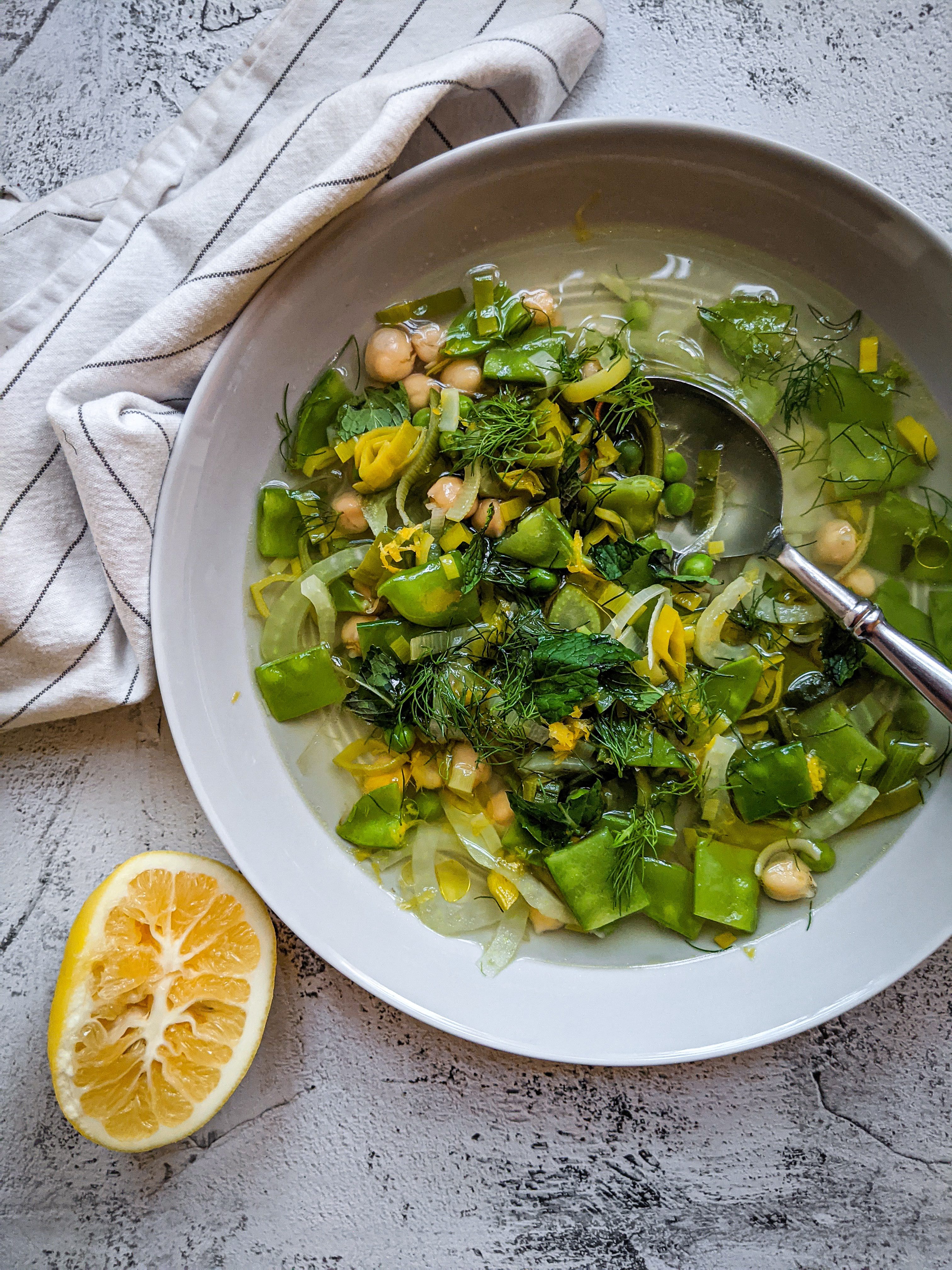 A hands-on in-person cooking class culminating in a dinner served with wine and beer. This class is limited to 12 students. Review our registration and cancellation policies here. Masks are welcome.
Welcome to Marie's latest and greatest series: High Voltage Vegetables: Spring Edition! We are going to make full-flavored, no holds barred vegetable dishes and it will rule. 
The produce of spring tends to be light, tender and green, green, green! In this class we balance that youthful Big Green Energy with mature, aged flavors like shio koji, preserved lemon, seaweed and, of course, miso.
With a little coaxing and the right preparations we will take these vegetables and transform them into dishes that you'll be making and riffing on through the summer. Join and learn how to be a spring produce pro.
MENU
Herby Caesar Salad with Fresh Favas
Primavera Minestrone with Dashi & Preserved Lemon
Asparagus with Tahini Dressing and Pine Nut Dukkah
Smashed New Potatoes with Shio Koji, Halloumi & Pea Greens
Sweet & Savory Green Garlic & Miso Shortbread
 
This menu contains the following common allergens: Egg, Soy, Tree Nuts, Dairy, Wheat. If you have allergies or dietary restrictions that concern your ability to cook along, please e-mail info@18reasons.org before purchasing a ticket.
Let's Cook Together! 
Marie Brennan is a vegetable enthusiast, keen fermenter and an avid traveler. Her explorations are fueled by the desire to find her next pantry staple and learn yet another way to use onions. Her culinary focus is vegetarian, Californian cuisine that is imbued with global flavors. Her classes are known for their healthyish and punchy flavors as well as her non-dogmatic and enthusiastic approach to food. 
Marie graduated from the University of Wisconsin with a degree in Dietetics and in 2014 moved to the Bay Area to attend culinary arts school. She stayed for the produce and the sunshine. Marie lives in Berkeley California and works as an educator, consultant, private chef and recipe developer. You can learn more about Marie at www.hedonistinmoderation.com
Photo credit: Marie Brennan