Handmade Asian Rice Noodles - In Person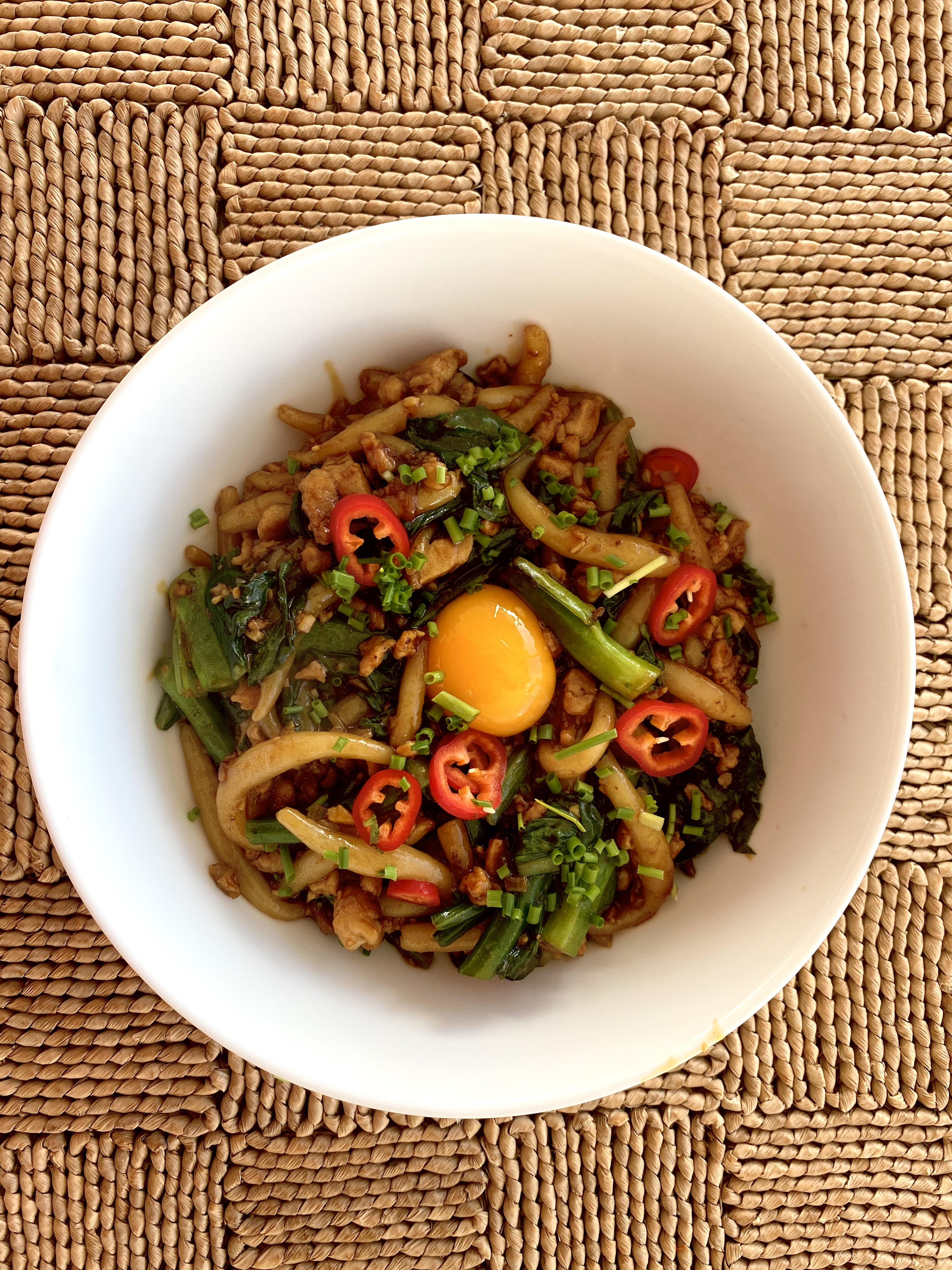 A hands-on in-person cooking class culminating in a dinner served with wine and beer. This class is limited to 12 students. Review our registration and cancellation policies here. Masks are welcome.
In this edition of Handmade Asian Noodles with Linda, we are going to make chewy rice noodles from across the region. From central Vietnam, we'll make Banh Canh, a hand-extruded, long, thick noodle which we'll serve in a hearty and porky bone broth. From Malaysia, we'll hand roll short noodles called Loh Shi Fun (also known as silver pin noodles). After, we'll stir fry the noodles with dark soy sauce and finished with a runny egg yolk to make a dish called Bee Tai Mak. Lastly from Hong Kong, we'll make Cheong Fan, soft slippery steamed rice noodles that we'll fill with succulent shrimp and serve with a sweet soy sauce (a favorite dish at dim sum parlors!). All of these noodles are made from the magical blend of rice flour and tapioca starch, the two staple grains from the region. We'll sip, slurp, and chew to our heart's delight! 
MENU
Cheong Fan—Noodle Rolls filled with Shrimp served with a Sweet Soy Sauce
Banh Canh Tom Thit—Noodle Soup with Pork Belly, Shrimp, and Quail Eggs
Bee Tai Mak—Stir Fried Loh Shi Fun (Silver Pin Noodles) with Chicken, Shrimp, and Egg
This menu contains the following common allergens: Fish, Shellfish, Egg, Soy, Dairy. If you have allergies or dietary restrictions that concern your ability to cook along, please e-mail info@18reasons.org before purchasing a ticket.
Let's Cook Together! 
Linda Tay Esposito is a teaching chef whose food represents a tribute and a commitment to the authenticity of the cuisines of the Pacific Rim. For the last 18 years, Linda has shared her passion and knowledge of East and Southeast Asian cuisines in the Bay Area by teaching at many notable cooking schools in the Bay Area. An all around food professional, Linda expanded the distribution for artisan tofu maker, Hodo Soy, and led the development of La Cocina's municipal marketplace, where she uses food as a creative approach to economic development. Linda's specialties include Malaysian cuisine, Chinese cuisine, various Southeast Asian cuisines, and private classes and dinners at 18 Reasons.
Photo credit: Linda Tay Esposito