Celebration of Moroccan Flavors in France - In Person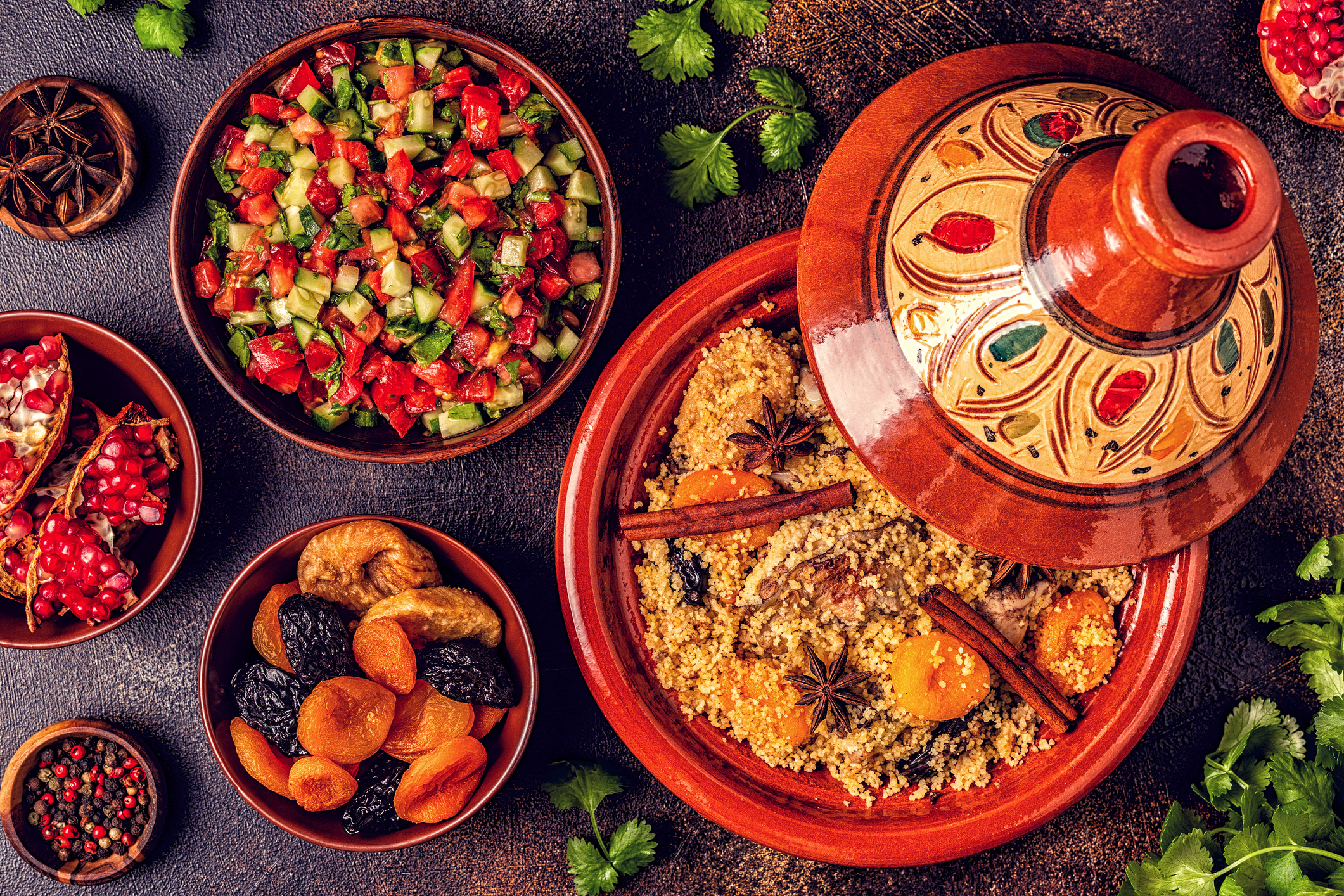 A hands-on in-person cooking class culminating in a dinner served with wine and beer. This class is limited to 12 students. Review our registration and cancellation policies here. Masks are REQUIRED for this class.
For 44 years, Morocco was a protectorate of France. This link between the two countries created a pathway for Moroccan cuisine to be introduced and popularized in France. The word tagine refers to the cookware used to make the stew, which is made of either ceramic or, more traditionally, unglazed clay. The varieties of tagines are endless and are often vegetarian with a deep aromatic broth to accompany the couscous. In this class we will celebrate the traditional flavors of a chicken tagine scented with preserved lemons and olives, along with a vegetable tagine scented with a tomato & cumin infused broth served with couscous and harissa! Join Zoe McLaughlin for an evening in the kitchen, where she will guide you through her recipes, inspired by her time cooking and living in Paris.
MENU
Labneh with Za'atar Oil Served with Flatbread 
Chicken Tagine with Preserved Lemons & Olives in a Turmeric, Ginger & Saffron Broth
Vegetable Tagine with Pumpkin, Parsnips, Carrots, Chickpeas & Apricots in a Tomato, Cumin & Paprika Scented Broth Topped with Fresh Herbs 
Couscous with Slivered Almonds & Raisins 
Served with Harissa
This menu contains the following common allergens: Tree Nuts, Dairy, Wheat. you have allergies or dietary restrictions that concern your ability to cook along, please e-mail info@18reasons.org before purchasing a ticket.
Let's Cook Together! 
Zoé McLaughlin was born in Paris and raised in San Francisco. She graduated from Le Cordon Bleu in Paris and worked in restaurants in France while she wrote and published her first cookbook – a collection of family recipes influenced by her multicultural upbringing. She now lives in San Francisco, where she works in the non-profit culinary world and hosts online cooking demonstrations. She has a passion for bringing together the diverse flavors and culinary traditions of the Bay Area with the time tested techniques of classical French cooking.
Photo courtesy of Zoe McLaughlin