Flavors of Korea: Kimchi Gimjang and Bossam - In Person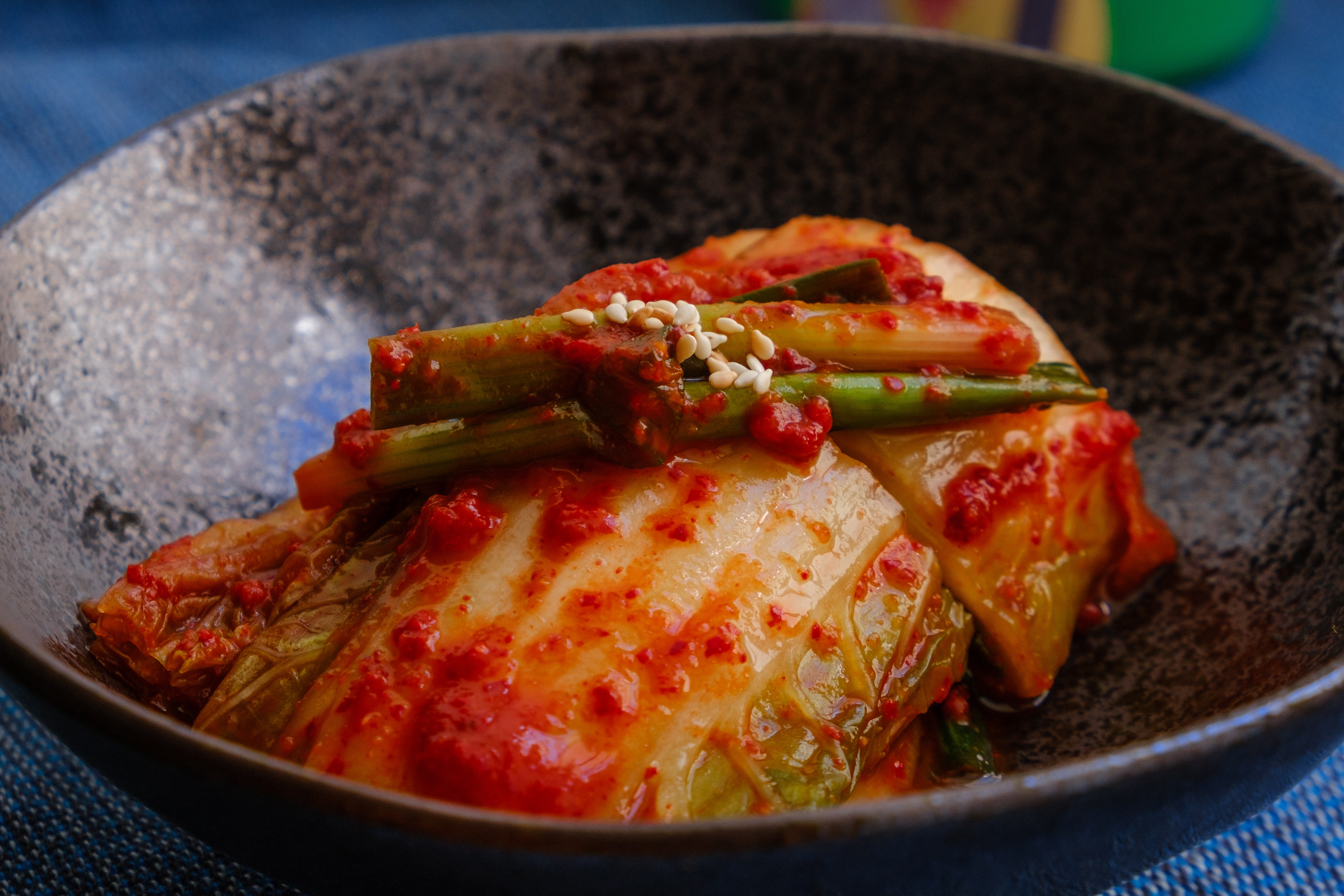 A hands-on in-person cooking class culminating in a dinner served with wine and beer. This class is limited to 10 students. See our registration policies here and our rules for in-person events here.
The transition away from our Bay Area Summer towards the brisk November evenings marks the time to gather and create a giant batch of kimchi to sustain you through the rest of our rainy winter. A jar of kimchi is packed with delicious probiotics, but is also a great labor of love. Share that labor with your fellow classmates and your instructor, Elise, at a gimjang (김장) gathering! In traditional gimjang (김장) style, we will also create a feast of banchan (반찬 - Korean side dishes), and deliciously simmered pork belly wraps to complement your freshly made kimchi. Class will culminate with a buffet style dinner, with the option to take your meal home. 
MENU
Mat Kimchi 
Bossam (보쌈): Boiled pork belly wraps with:
Doenjang (된장) ssam sauce - fermented soybean paste
Kimchi salad
Assorted banchan:
Buchujeon (부추전) - Garlic chive pancake
Japjae (맛있) - Sweet potato glass noodles with vegetables and mushrooms
Served with steamed rice
This menu contains the following common allergens: Soy, Wheat, Shellfish, Eggs. If you have allergies or dietary restrictions that concern your ability to cook along, please e-mail info@18reasons.org before purchasing a ticket.
Let's Cook Together! 
Born and raised in Colorado, Elise Hayashi grew up in a family where knowing how to use a paring knife was more important than riding a bicycle. This sparked her passion for food and cooking at an early age, and she enthusiastically relocated to the Bay Area to study nutrition science at UC Berkeley. Outside of the classroom, Elise helped implement childhood obesity and exercise research, and worked as a pastry assistant to fill her free time with galettes and mousses. She also broadened her experience with food by studying and cooking her way through the Mediterranean diet in Italy, and working on an organic farm in Japan. Now, she is excited to merge her gastronomic backgrounds to share her love of food with the 18 Reasons community. During the rare moments when she is not eating, Elise can be found trying out new sports, playing and listening to live music, or wandering the aisles of grocery stores and farmers' markets.
Photo by Portuguese Gravity on Unsplash