Flavors of Malaysia: A Malay Meal - In Person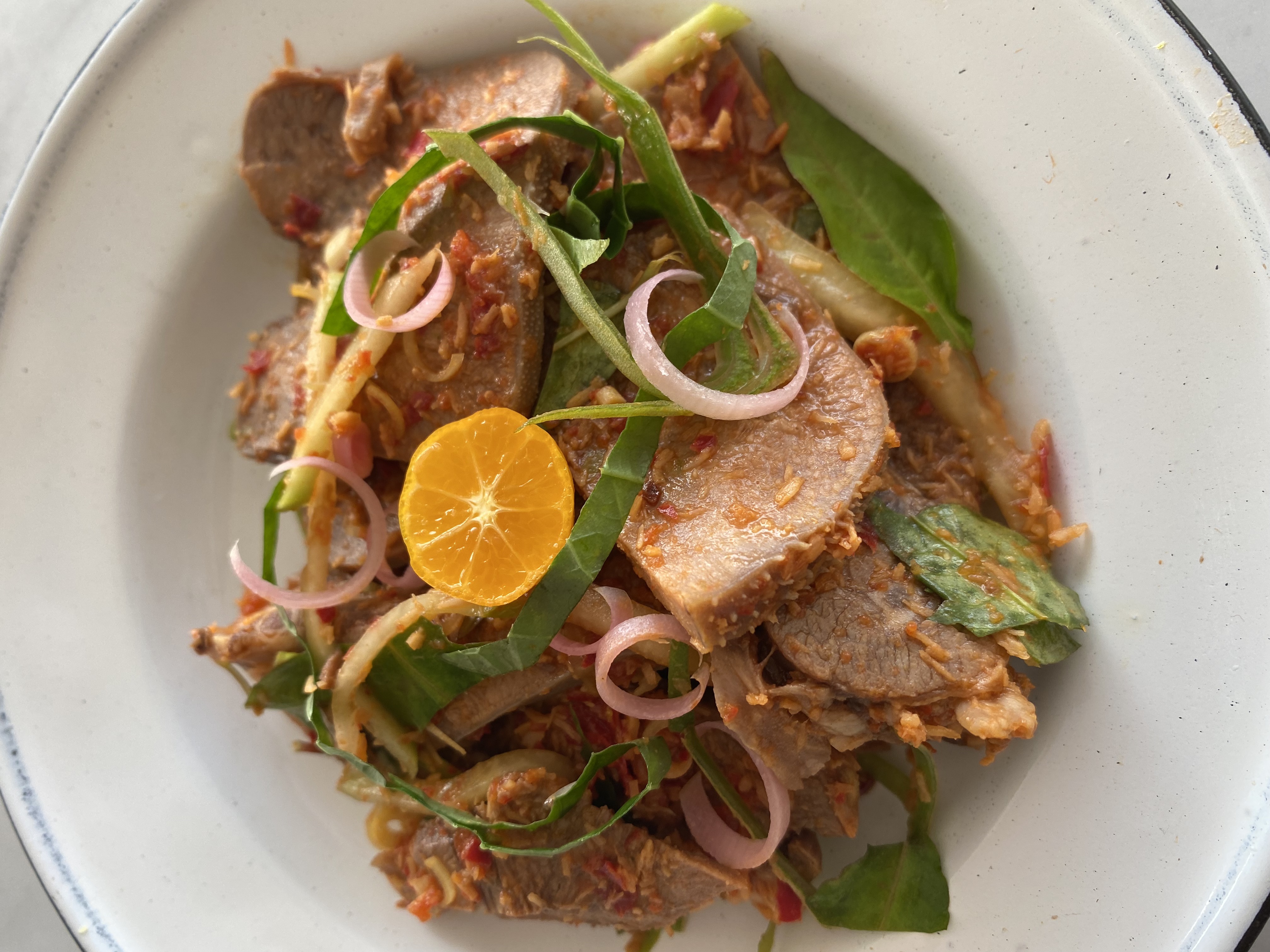 A hands-on in-person cooking class culminating in a dinner served with wine and beer. This class is limited to 10 students. See our registration policies here and our rules for in-person events here.
As the first return to the class room in-person class, we will go all out and celebrate with a very traditional Malay meal. While we are beginning to see normalcy here in the US, travel to Asia is still far in the horizon. This meal brings Linda back to long lazy days driving on the coastal roads of the Peninsula Malaysia and stopping at roadside stalls for the smoky sticky rice cooked in hollowed bamboo and a bag of rendang.  
Together, you will learn how to cook beef tongue, a delicious cut of the cow that is often ignored! With that tongue, you'll learn how to make a kerabu salad, a technique that can be applied to other ingredients at home. You'll learn how to make the intoxicating paste of spices that forms the backbone of rendang, a beloved Malay dish. Lastly, you'll fall in love with the magic toasted coconut kerisik butter. At the end of class, we'll gather over our dining table to connect, though we will be individually plating the meal for guest comfort. 
MENU
Beef Tongue Kerabu (pictured)
Duck Rendang
Pineapple Pajeri Curry
Lemang Sticky Rice
This menu contains the following common allergens: Shellfish, Coconut. If you have allergies or dietary restrictions that concern your ability to cook along, please e-mail info@18reasons.org before purchasing a ticket.
Let's Cook Together! 
Linda Tay Esposito is a teaching chef whose food represents a tribute and commitment to the authenticity of the cuisines of the Pacific Rim. For the last 15 years, Linda has shared her passion and knowledge of East & South East Asian cuisines through Bay Area cooking schools - Cavallo Point, Sur La Table, Parties That Cook and Whole Foods Market. Linda's teaching philosophy is to make these cuisines approachable to the home cook, while respecting the cuisine's heritage and authenticity in taste. Besides 18 Reasons, Linda also shares her Nyonya food passion with Milk Street Kitchen and leads a community culinary program on Asian vegetables for Radical Family Farms.
An all-around food professional, Linda's consulting work centers around helping food businesses flourish through the intersectional lens of food, sustainability and equity. Her past experience includes growing Hodo Foods from an artisanal producer to nationwide distribution, and building inclusive food places. Most recently she led the development of La Cocina Municipal Marketplace – using food as a creative approach to economic development by offering affordable, healthy food options and safe spaces while providing accessible business opportunities for low income, immigrant, women food entrepreneurs. Linda is a member of the Good Food Foundation advisory board and serves on their Equity Task Force. Linda lives in San Francisco. In her free time, she plants Asian herbs at the community garden at Fort Mason. Follow her on Instagram @flavor_explosions
Photo credit: Linda Tay Esposito