Barcelona Street Food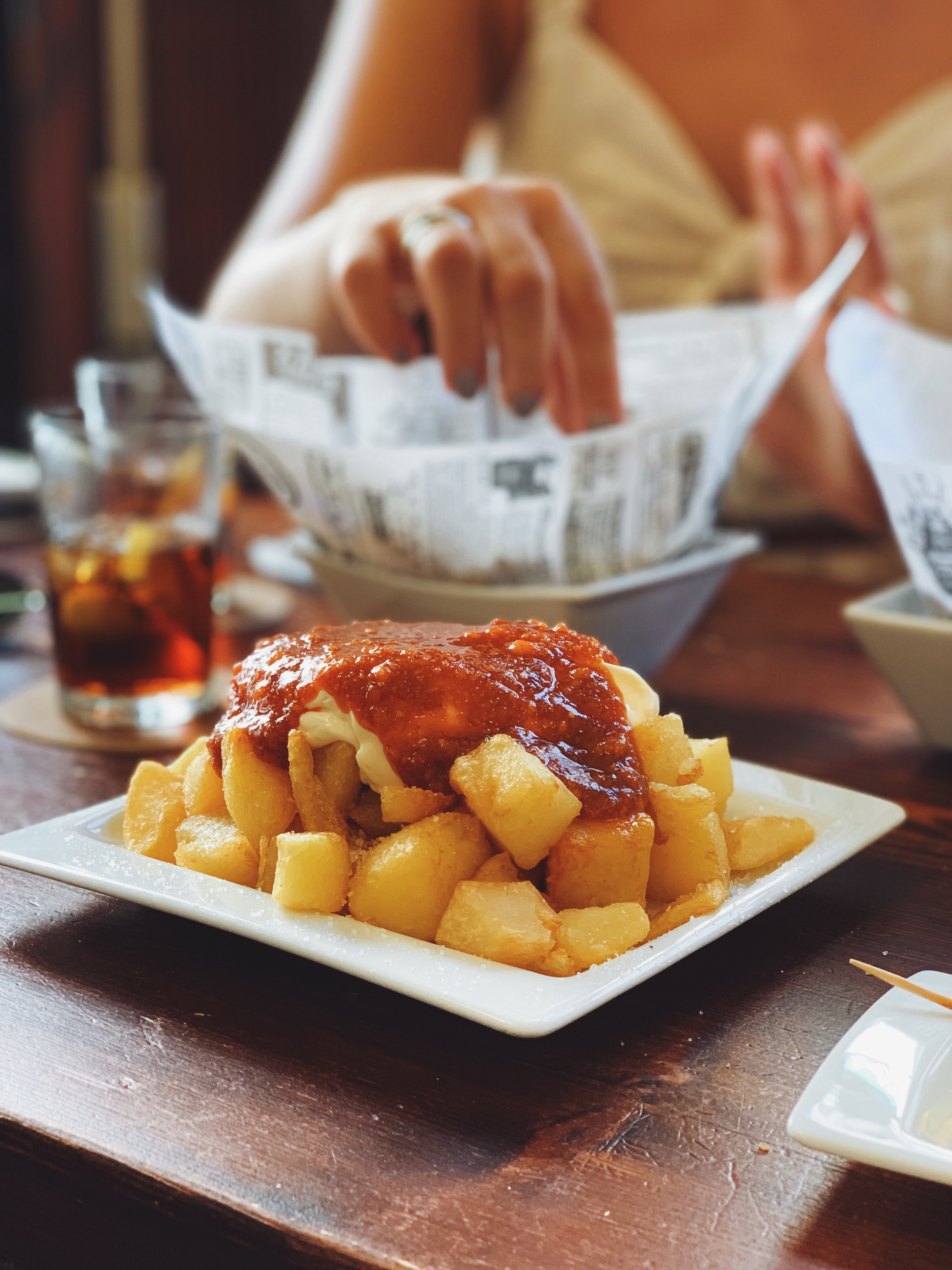 This is a live, interactive, hands-on cooking class held online via Zoom. See our event policies at the bottom of this webpage.
Who doesn't love street food? Whether you're traveling this summer or not, making this menu with us will transport you to the streets of one of the best cities in the world!
In this new edition of "Barcelona Street Food," we will feature the fan-favorite patatas bravas served with alioli and a peppery dressing. In addition, you'll learn a very famous bocadillo from Conesa, a hole in the wall next to the ancient buildings of Plaza Sant Jaume, where customers wait in a mile-long line. Finally, you'll learn Catalan-style nachos that will convey the true fusion of contemporary local street food. This will be a mouthwatering spread to enjoy for the weekend!
MENU
Patatas Bravas, Tomás style
Escalivat Bocadillo
Catalan-style Nachos with Romesco Sauce
Equipment and Ingredient List for the class found here; check before buying a ticket.
This menu contains the following common allergens: Tree Nuts, Dairy (substitution available), Wheat (substitution available). If you have allergies or dietary restrictions that concern your ability to cook along, please e-mail info@18reasons.org before purchasing a ticket.
---
If you're new to 18 Reasons Online, please read this guide: How to Take an Online Class at 18 Reasons. Five calendar days before class, 18 Reasons may decide to cancel this class if not enough tickets are sold. We will notify registrants by email about cancellations.
---
Camila Loew holds a Ph.D. in Humanities and is a certified nutrition consultant. Having lived alongside the Mediterranean for almost two decades, she believes that the best cooking relies on simple recipes with outstanding ingredients. That's the Mediterranean way she conveys in her classes, along with the concept of sobremesa, which happens to be the name of the company she runs. Sobremesa is the leisurely time we spend gathered around the table. In addition to running Sobremesa Culinary Tours, through which she offers delicious cultural and culinary experiences abroad for fellow food-lovers, Camila founded and directs the Food Studies & Gastronomy program at the University of Barcelona, and teaches academically about Mediterranean food culture to American students abroad. Since 2014, Camila has been sharing her love of regional Spanish and Mediterranean cuisines at 18 Reasons. For more information visit her website www.sobremesa.life  
Photo by Nacho Carretero Molero on Unsplash