Teen Culinary Immersion Day 1: Breakfast, Lunch, and Dinner Around the World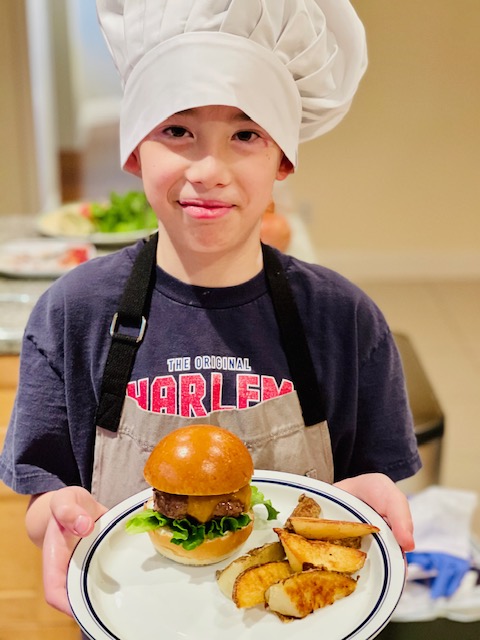 This is a live, interactive, hands-on cooking class held online via Zoom. See our event policies, including cancellation, at the bottom of this webpage.
18 Reasons invites all teens, ages 13-18, to join our virtual Teen Culinary Intensive: Breakfast, Lunch, and Dinner Around the World to develop new skills in their own kitchens while feeding their households! Teens will travel through their taste buds from Italy to Japan with a menu full of mouthwatering meals.
This is a four-day virtual session designed to cover many essential cooking techniques from proper knife skills to baking yeasted dough with no prior knowledge required. There is no better way to learn how to cook than by cooking! Doing so in one's own kitchen empowers students to recreate and adapt recipes based on the confidence imparted by the teaching team. But don't take it from us, here's what other online students have said:
"I loved being able to do this in my own kitchen with my own equipment."
"[My favorite part was] the fact that we cooked in our own kitchens and were exposed to different challenges and variations of recipe based upon our own materials and situations."
"I loved learning to cook from my own kitchen with help and feedback. The online format works great."
MENUS
Day 1: Monday, 6/21
Spring Frittata A-Z: Asparagus, Zucchini and Goat Cheese
Cinnamon Buns
Macedoine of Fruit
Day 2: Tuesday, 6/22
Miso Ramen
Mango Lassi
Sausage Roll
Day 3: Wednesday, 6/23
Mushroom Chipotle Tacos
Herbed Rice Pilaf
Condensed Milk Ice Cream
Day 4: Thursday, 6/24
Chocolate-Cherry Oatmeal Cookies
Ice Cream Sandwiches
Chocolate Souffle
Ingredient and prep list available here (click to view).
There are vegetarian alternatives for any menu items containing meat. This menu also contains the following common allergens: dairy, egg, gluten. If you have allergies or dietary restrictions that concern your ability to cook along, please e-mail info@18reasons.org before purchasing a ticket.
---
NEXT STEPS
Where can I join from?
Due to the virtual nature of this class, we welcome participants, ages 13-18, from anywhere in the world! Class will meet June 21-24 from 10:00 AM to 12:30 PM PT. Students will login to Zoom where they will cook from the comfort of their own kitchens with a chef instructor and facilitator to support them.
Are ingredients provided?
Pantry kits with non-perishables are included in the ticket price ($40); if you are local to the San Francisco Bay Area kits will be available for pickup prior to class at our location, 3674 18th St, San Francisco, CA, on Sunday, June 20, 4:00 to 5:30 PM. If you are not local or would prefer to procure your own ingredients entirely, you can provide the $40 as a tax-deductible donation or request a refund in that amount. A comprehensive list of ingredients and equipment will be provided to registrants a week prior to class.
How can I register?
To register, select "add to cart" at the top of this page, then proceed to checkout. Registration will close prior on Wednesday, June 16, 2021. When registering, it is essential to use an email address that is frequently checked (we recommend a parent or guardian's), as all class communications will be sent via email.
Do you provide any financial assistance?
We encourage all interested teens to participate! Thus, we are offering full and partial financial aid to eligible participants. We encourage you to apply as soon as possible, as we have limited scholarship funds. Please apply at the following link by Wednesday, June 16, 2021, and we will respond to your application by email: scholarship application.