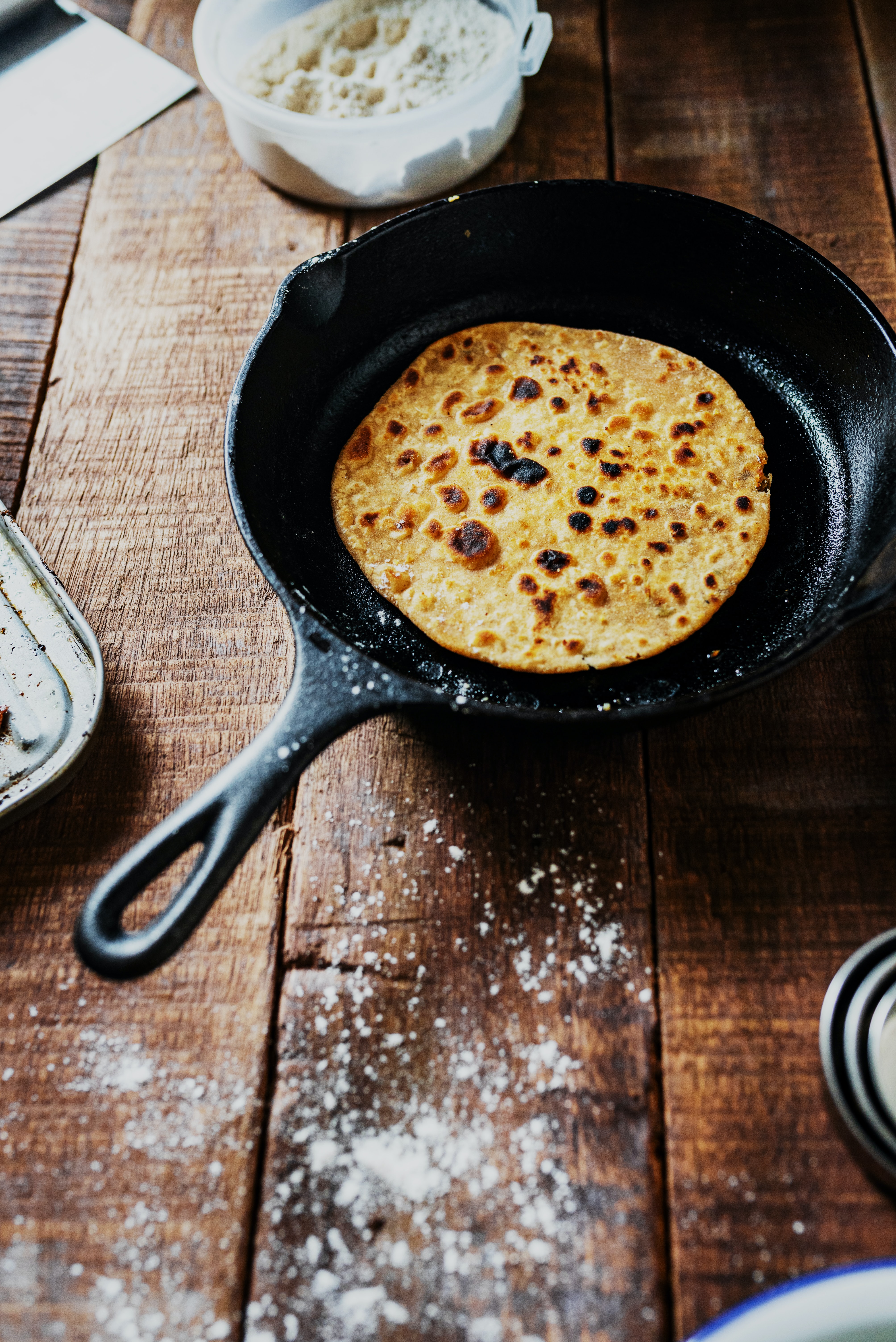 This is a live, interactive, hands-on cooking class held online via Zoom. See our event policies at the bottom of this webpage.
Indian curries and breads are a fan favorite, but cooking them can be intimidating. We're continuing to explore this theme we started in April, though you do not need to have attended the first class to participate in this one.
In this class, we will make a complementary pairing of bread and curry from scratch: tandoori roti and matar paneer. Tandoori roti is a healthier, unleavened version of the popular bread naan; we will be using whole wheat flour and a cast iron pan (no need for a clay oven, whew!). It is good for beginners, can come together in 30 minutes, and likely will get you lots of compliments!  To pair with the bread, you'll be using the famous Indian cheese, paneer, cooked in a tomato base with peas. And to round it out, you'll make a refreshing side dish with yogurt: cucumber mint raita.
MENU
Matar Paneer
Tandoori Roti
Cucumber Mint Raita
Equipment and Ingredient List for this class can be found here; please check before buying a ticket.
This menu contains the following common allergens: Dairy, Wheat. If you have allergies or dietary restrictions that concern your ability to cook along, please e-mail info@18reasons.org before purchasing a ticket.
---
If you're new to 18 Reasons Online, please read this guide: How to Take an Online Class at 18 Reasons. Five calendar days before class, 18 Reasons may decide to cancel this class if not enough tickets are sold. We will notify registrants by email about cancellations.
---
Through her company, Crimson Kitchen, Meghna Agarwal teaches Indian cooking classes, caters parties, runs her private chef business, and occasionally feeds the hungry souls of San Francisco's numerous startups. When asked about her culinary background, Meghna notes with a smile that she comes from a culture that has been focused on food for the past five thousand years! With a heritage of food as the epicenter of most occasions, she is driven to find and replicate the countless traditional tastes of India – from Mumbai's modern restaurants to the street food of tiny villages.
Meghna regularly visits India, where she works with Indian restaurateurs and chefs to keep abreast of their evolving cuisine. Upon return to her San Francisco kitchen, she infuses the latest trends with ancient traditions and techniques to pass along to her students. Meghna can now be found  teaching cooking classes in collaboration with 18 Reasons, San Francisco Cooking School, The Civic Kitchen and her own company Crimson Kitchen. You can find more information on her at www.crimsonkitchen.com or follow her food journey on instagram @crimsonkitchen.