Sweet and Savory Spring Pies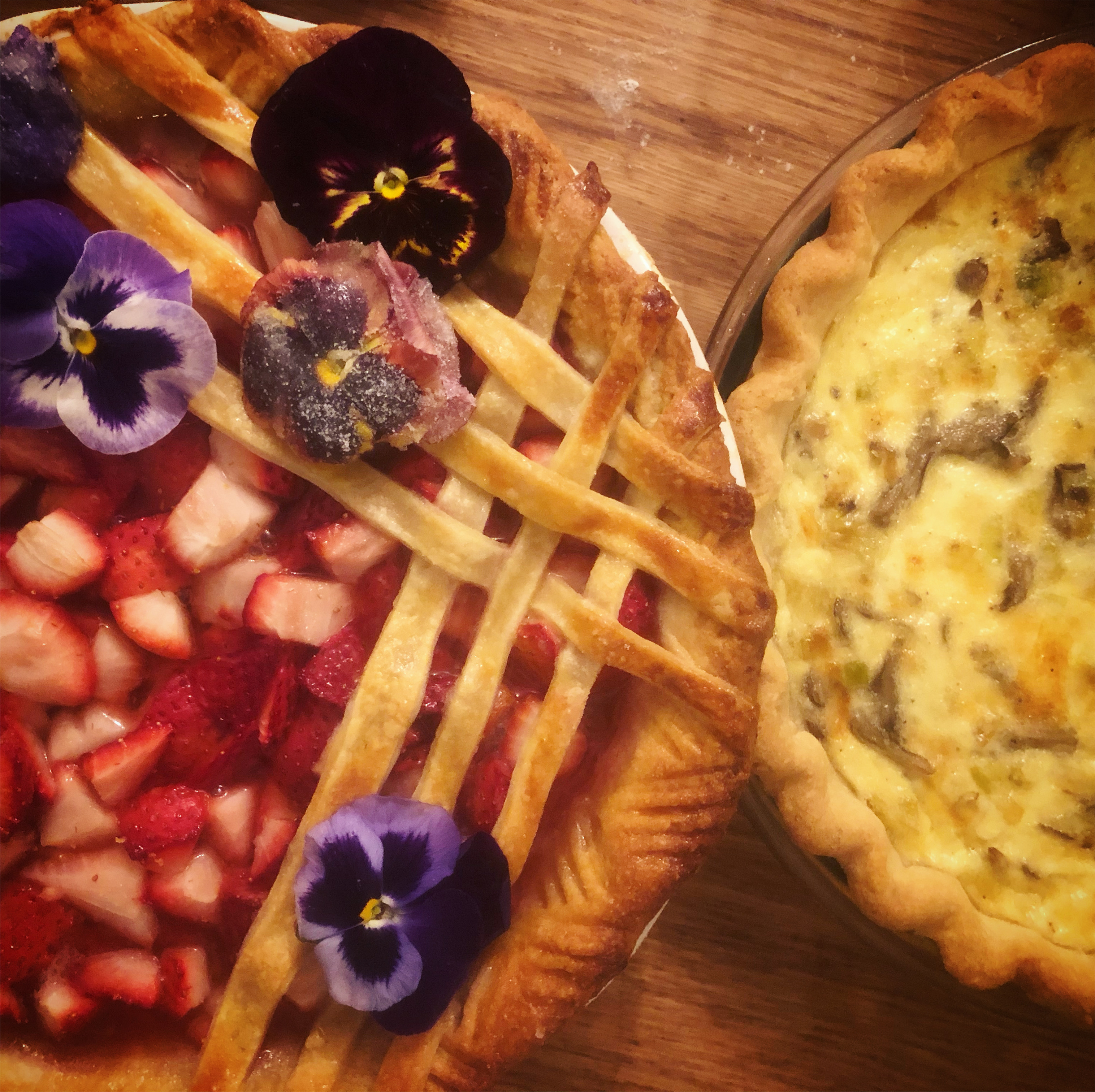 This is a live, interactive, hands-on cooking class held online via Zoom. See our event policies at the bottom of this webpage.
What's better, or more beautiful, than a pie? Make a simple crust, add either eggs and cheese or fruit, and you've got a stunning meal or a celebratory dessert. The beauty of the pie lies in its simplicity: Master the basic form, and it becomes a canvas for endless experimentation.
This spring, we'll be playing with two forms of pie: a classic quiche and a simple (but stunning) strawberry rhubarb pie, both using the same dough for their crusts. The result is full meal fit for an intimate Easter brunch or an afternoon tea with friends (outdoors, of course).
MENU
Strawberry Rhubarb Pie with Frosted Flowers
Mushroom and Onion Quiche with Gruyere
Green Salad with Herbs and French Vinaigrette
Equipment and Ingredient List can be found here.
This menu contains the following common allergens: Egg, Dairy, Wheat. If you have allergies or dietary restrictions that concern your ability to cook along, please e-mail info@18reasons.org before purchasing a ticket.
---
If you're new to 18 Reasons Online, please read this guide: How to Take an Online Class at 18 Reasons. Five calendar days before class, 18 Reasons may decide to cancel this class if not enough tickets are sold. We will notify registrants by email about cancellations.
---
Georgia Freedman is a freelance journalist based in the Bay Area and the author of two cookbooks: There's Always Room for Chocolate (co-written with the owners of The Chocolate Room, in Brooklyn), and Cooking South of the Clouds—Recipes and Stories from China's Yunnan Province. Georgia's writing has appeared in Food & Wine, Saveur, the Wall Street Journal, Martha Stewart Living, Afar, and other food and travel publications.
Georgia is also an avid pie baker. In non-Covid times, she host seasonal parties called Pie Days that she uses as an excuse to make somewhere between ten and twelve pies to share with her friends.
Photo credit: Georgia Freedman