Foods of Yunnan: The Sweet-Savory-Spicy Flavors of Zajiang Noodle Soup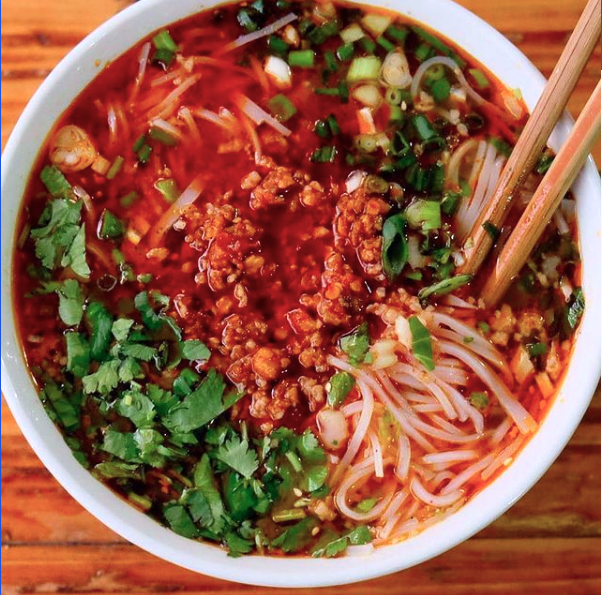 This is a live, interactive, hands-on cooking class held online via Zoom. See our event policies at the bottom of this webpage.
What's better than a bowl of noodle soup for dinner (or lunch, or breakfast)? In this class, we'll make all of the components for Western Yunnan-Style Zajiang Mixian, a sweet, savory, spicy rice noodle soup from China's border with Myanmar. The dish combines the savory flavors of meat* cooked in chile-bean paste with the bright fresh flavors of herbs and greens, an aromatic hit from garlic and ginger, and a little bit of tingling spiciness (or more, if you like) from Sichuan peppercorns and freshly-made chile oil.
The recipes in this book come from Georgia Freedman's cookbook, Cooking South of the Clouds—Recipes and Stories from China's Yunnan Province. If you're interested in purchasing the book, support our friends at Omnivore Books and find the book here.
MENU
Western Yunnan-Style Rice Noodle Soup with Toppings—4 servings with plenty of leftover components. Components include a pork* bone broth, zajiang ("mixed sauce" of pork,* two kinds of chile-bean paste, and chile oil), homemade sesame oil, garlic water, minced ginger, ground  Sichuan peppercorns, chopped herbs and greens, and homemade chile oil.
Fresh and Spicy Cucumber Salad
*All pork components can be replaced with chicken or with a vegetarian substitute
Equipment and Ingredient List for this class is available here.
This menu contains the following common allergens: sesame. If you have allergies or dietary restrictions that concern your ability to cook along, please e-mail info@18reasons.org before purchasing a ticket.
---
If you're new to 18 Reasons Online, please read this guide: How to Take an Online Class at 18 Reasons. Five calendar days before class, 18 Reasons may decide to cancel this class if not enough tickets are sold. We will notify registrants by email about cancellations.
---
Georgia Freedman is a freelance journalist based in the Bay Area and the author of two cookbooks: There's Always Room for Chocolate (co-written with the owners of The Chocolate Room, in Brooklyn), and Cooking South of the Clouds—Recipes and Stories from China's Yunnan Province. Georgia's writing has appeared in Food & Wine, Saveur, the Wall Street Journal, Martha Stewart Living, Afar, and other food and travel publications.
Photo credit: Georgia Freedman