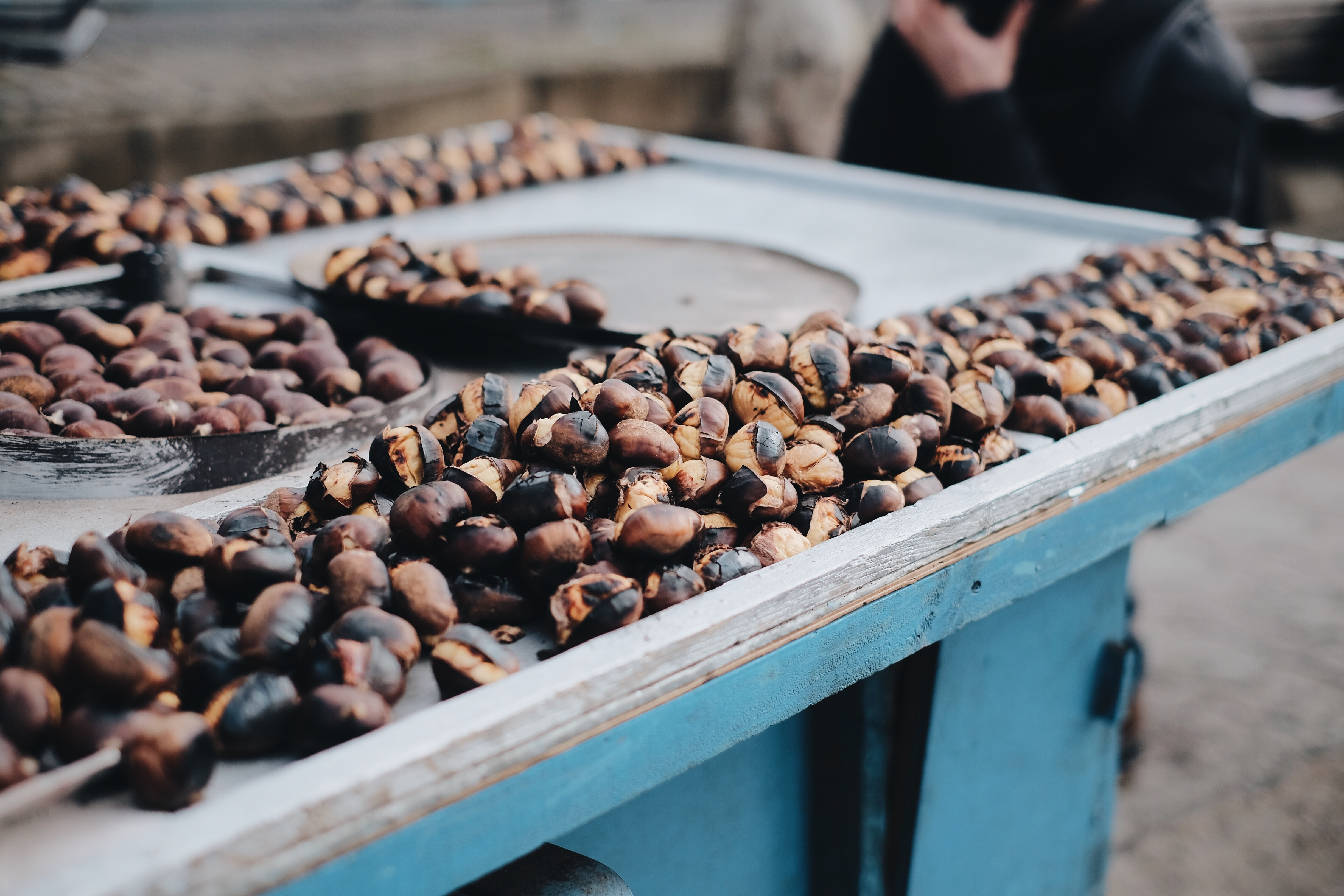 This is a live, interactive, hands-on cooking class held online via Zoom. See our event policies at the bottom of this webpage.
In the fall, Barcelona streets are invaded by a beautiful aroma: roasted chestnuts and sweet potatoes. On many urban corners, vendors set up stalls selling these two seasonal treats. Locals celebrate All Saints Day (Nov. 1) with panellets, sweet little pastries made with almonds and pine nuts. The traditional castañada, a chestnut roasting festival, is a yearly tradition kids kids look forward to, as the Castanyera, the older woman who appears and grants the festival more lore and local flavor, is one of everybody's favorite figures.
In this class, we will celebrate the season with recipes both traditional and modern: panellets are on the menu, as well as dishes that use the seasonal ingredients with influences from other places near Barcelona and the Mediterranean: hummus from the Middle East and risotto from Italy.
MENU
Sweet Potato Hummus
Chestnut and Mushroom Risotto
Panellets, Catalan All Saints Day Sweets
Equipment and Ingredient List for the class found here; check before buying a ticket.
This menu contains the following common allergens: Egg, Tree Nuts, Dairy. If you have allergies or dietary restrictions that concern your ability to cook along, please e-mail info@18reasons.org before purchasing a ticket.
---
If you're new to 18 Reasons Online, please read this guide: How to Take an Online Class at 18 Reasons. On 10/28, 18 Reasons may decide to cancel this class if not enough tickets are sold. We will notify registrants by email about cancellations.
---
Camila Loew holds a Ph.D. in Humanities and is a certified nutrition consultant. Having lived alongside the Mediterranean for almost two decades, she believes that the best cooking relies on simple recipes with outstanding ingredients. That's the Mediterranean way she conveys in her classes, along with the concept of sobremesa, which happens to be the name of the company she runs. Sobremesa is the leisurely time we spend gathered around the table. In addition to running Sobremesa Culinary Tours, through which she offers delicious cultural and culinary experiences abroad for fellow food-lovers, Camila founded and directs the Food Studies & Gastronomy program at the University of Barcelona, and teaches academically about Mediterranean food culture to American students abroad. Since 2014, Camila has been sharing her love of regional Spanish and Mediterranean cuisines at 18 Reasons. For more information visit her website www.sobremesa.life  
Photo credit: Emre Gencer via Unsplash