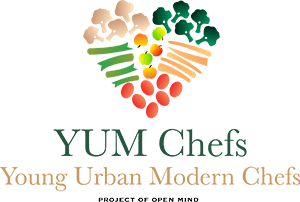 2020 Online Summer Camps
This summer, we are excited to partner with with Young Urban Modern (YUM) Chefs to offer two months of youth camp! YUM chefs operate within our neighbor, the Katherine Michiels School, and is a project of Open Mind - a non-profit dedicated to the development of young children. Their classes and camps share our values of community and cooking with fresh, sustainable food, and are designed to appeal to all 1st through 9th grade students! YUM Chefs camps are now online! In this camp we will go over proper hand washing, play fun culinary games, cook lunch with your little chef as well as a snack for later, and clean up with your YUM chef to make sure the kitchen goes back to the way it was before cooking. You will also receive all the recipes we make in camp. 
To register for this week of camp, please visit YUM Chefs Online Camp Sessions Website (here). 
Traveling Via Taste Buds
Ages 4 and up
August 10th - August 14th
Get ready to explore different dishes from around the world, no plane ticket necessary. This summer your YUM chef will be traveling to Egypt, Japan, Italy, Spain, and Indial The kids will get to ask questions to guest speakers from a few of the places we visit. We can't wait to travel the world via taste buds with your young chefs. 
Cancellation Policy: You have 24 hours from the date of the class registration submission and payment to cancel or change your class reservation and receive a full refund. After 24 hours the payment is final, and there are no refunds. There is no refund for student illness, missed days, vacations, or dismissal from the program. In the event of insufficient enrollment or any other circumstances out of our control, a class or camp may be cancelled or rescheduled for a later date. In the event that we have to cancel a camp or class, you will be refunded