18 Reasons Camp: Teen Culinary Immersion - scholarships available
Where:
Zoom Video Live Stream PST
United States
*If it says sold out above, note that scholarships are still available, and we are offering duplicate camps on July 20-24, August 3-7, and August 10-14.
Teen Culinary Immersion at 18 Reasons - Online!
This is a live, hands-on cooking class held online via Zoom. This is an interactive experience; if online learning is new to you, please read this guide on How to Take an Online Class at 18 Reasons.
Registered students should take at least 30 min before class begins to do the following: download and set up Zoom, test audio and video, wash and prep ingredients, and bring out equipment in the kitchen, per the list linked below. 18 Reasons staff will e-mail registrants one message containing class recipes and a Zoom meeting link; check your junk/spam/event folder in case you do not see the e-mail. Search for any email from 18 Reasons, looking for a subject line containing the full title of the class.
Age group: 13-18 years
Sessions: Monday, July 27 - Friday, July 31, 10am-1:00pm PDT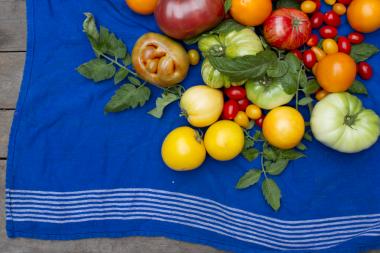 18 Reasons invites all aspiring teen cooks to join our summer Teen Culinary Immersion camp! The camp's curriculum is based on 18 Reasons' mission of empowerment, creativity, sustainability, and community. The week long series is structured to give students the knowledge to confidently intuit their way through the kitchen and find meaning and value in the ingredients they work with, while also cooking from the comfort of their own home! Students will begin the series with an introduction to kitchen techniques and knife skills, then will progress through the various ways of cooking vegetables, meats, and baking, all while creating a lunch for themselves and their families throughout the whole week! The course culminates to an ultimate finale, where teams will have to apply all the skills they learned throughout the week to see which team can create the most delicious, creative, and successful spin off of a classic macaroni and cheese!
Schedule of Classes and Menus:
Monday 7/27: Introduction to Knife Skills and Fundamentals with Chef Mike
Pan roasted vegetables with chicken thighs or tofu, pickled vegetables, honey miso dressing
Tuesday 7/28: Fundamentals Day 2 with Chef Mike
Meatball subs (veg version available), Ratatouille
Wednesday 7/29: Flavors of Japan with Chef Elise
Tonkatsu curry served over a warm bed of rice
Thursday 7/30: Fundamentals of Baking and Desserts with Chef Elise
Snickerdoodle cookies, vegetable galette, dinner rolls
Friday 7/31: Finale!!!
Next Steps:
We are excited to offer partial and full financial aid for teens! We will be prioritizing applicants living in the Bay Area, however we invite all to apply. You can find the application here! You will receive a notification regarding your aid package and registration steps by July 8. Though this page may say "sold out" above, we have reserved space for students awarded a scholarship to attend.
Are you in the San Francisco Bay Area? A pantry box of dry ingredients for use in the class is included in the ticket price and will be availabe for pick up at our location on 3674 18th St., San Francisco, CA On Friday 7/24 between 10am-7pm, and Saturday 7/25 from 12:30pm-4pm. If you are registering outside of the Bay Area or would prefer to get your own ingredients, a $28 credit will be refunded to you to accommodate the cost of these materials. All students will be responsible for acquiring fresh produce and meats for each day. A shopping and equipment list will be posted here for your review shortly!
When registering, use a parent or guardian's email that is most frequently checked. We will reach out in July to request student info and send along preparatory notes for the week! If your student has any allergies or dietary restrictions, please contact us at info@18reasons.org before 7/17 so we can best accommodate. 
Cancellation Policy: Refunds in the form of class credit minus a nonrefundable 4% payment processing fee will be available until 6/30/2020. After 7/1/2020, we will not be able to issue refunds but are happy to welcome a replacement (and we will help you as well). Email us at info@18reasons.org to work out details should you need to cancel anytime.