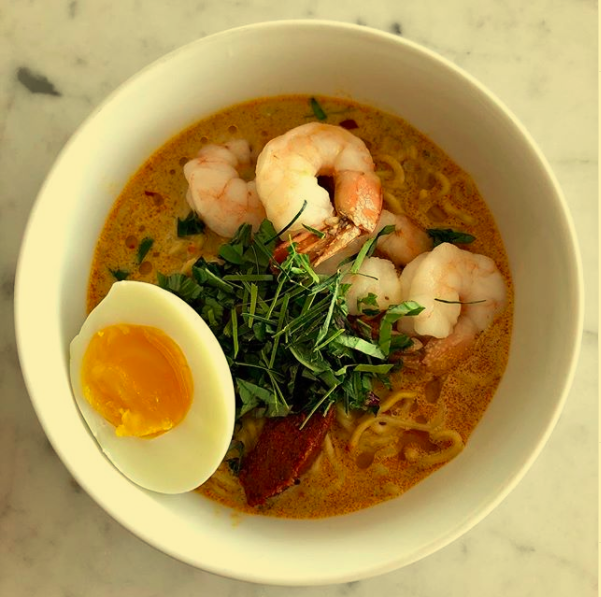 This is a live, hands-on cooking class held online via Zoom. This is an interactive experience; if online learning is new to you, please read this guide on How to Take an Online Class at 18 Reasons.
Registered students should take at least 30 min before class begins to do the following: download and set up Zoom, test audio and video, wash and prep ingredients, and bring out equipment in the kitchen, per the list linked below. 18 Reasons staff will e-mail registrants one message containing class recipes and a Zoom meeting link; check your junk/spam/event folder in case you do not see the e-mail. Search for any email from 18 Reasons, looking for a subject line containing the full title of the class. 
Psst. . . .have you heard? Laksa is finally gaining momentum in San Francisco. A beloved street food noodle soup from Malaysia (and Singapore), laksa has been a hit in places like London, Sydney and New York. There are many different kinds of laksa; every state in Malaysia has its own version! These steaming bowls of slurpable deliciousness differ in noodle types, broth base, stock, and protein. Seemingly endless variations, eh? One thing unites these beloved dishes: they are all noodles in a spicy broth, frequently with a coconut cream base, served with a variety of meats and herbs. In this class, you will learn to make that broth - our version will be a coconut, lemongrass and shallot-rich chicken and shrimp broth base, plus the requisite sambal, a fragrant, deeply flavored spice paste that you will want to smear on everything. Add toppings and noodles, and you'll have yourself an unforgettable lunch!
MENU
Laksa - Egg Noodles and Rice Noodles in a Coconut Spicy Broth, topped with Chicken, Shrimp, Egg, Fish Balls, Tofu Puffs, and Laksa Leaves
Sambal - demo by Chef Linda, you will receive the recipe and ingredient list to prepare separately
Equipment and Ingredient List for the class will be posted here! Check before signing up for class.
This menu contains the following common allergens: Fish, Shellfish, Egg, Soy, Tree Nuts, Wheat. If you have allergies or dietary restrictions that concern your ability to cook along, please e-mail info@18reasons.org before purchasing a ticket.
Linda Tay Esposito is teaching chef whose food represents a tribute and a commitment to the authenticity of the cuisines of the Pacific Rim.  For the last 15 years, Linda has shared her passion and knowledge of South East Asian cuisine in the Bay Area and her work had been featured in KQED Bay Area Bites, the New York Times, etc. Linda taught at the The Cooking School at Cavallo Point and at Sur La Table Cooking School, and was a lead chef at Parties That Cook where she taught global cuisines in a team building setting. She started her teaching career at Whole Foods Market. Most recently she was the head of operations and chef at Bay Area's artisan tofu maker, Hodo. She currently leads the development of La Cocina's municipal marketplace – using food as a creative approach to economic development by offering affordable, healthy food options and safe spaces while providing assessable business opportunities for low income, immigrant, women food entrepreneurs. She writes a food blog at www.flavorexplosions.com and you can follow her on Instagram @flavor_explosions
Photo credit: Linda Tay Esposito