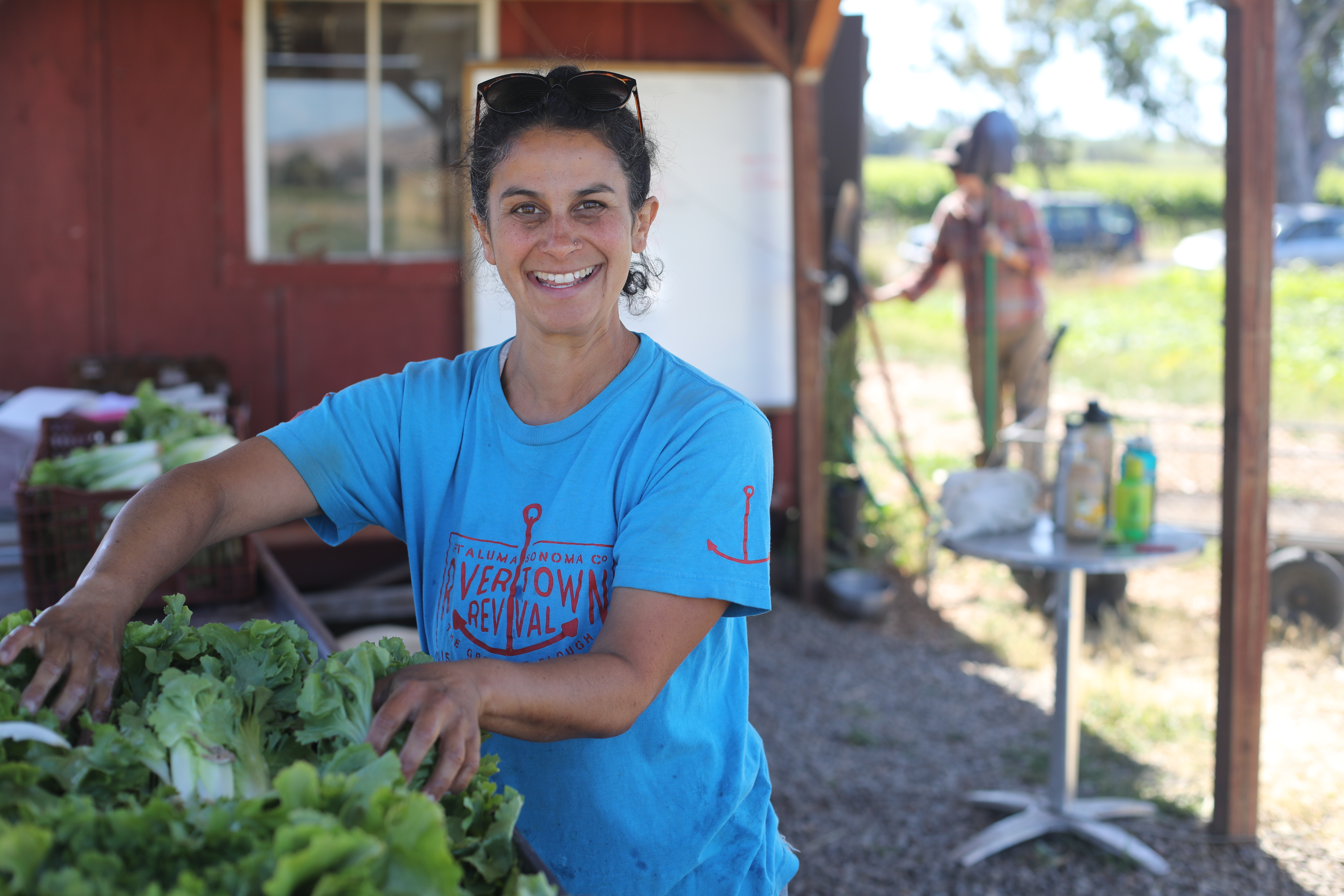 A seated dinner with a group discussion led by a guest speaker. Wine and beer will be available for sale, or you may BYOB wine and beer.
Join us for a special dinner celebrating the seasonal bounty produced by Bi-Rite's very own 3-acre farm in Sonoma. Layla Aguilar, farm manager, will discuss the reasons behind the farm's inception, its growing practices, and methods of crop selection. Chef Mike Weller of 18 Reasons will create a delicious dinner showcasing one of Layla's favorite crops—beans. Together we'll learn about the versatility and range of flavor this crop has—from fresh varietals to shelling beans and dried heirlooms. We'll discuss how understanding the provenance and growing practices behind our food can deepen our enjoyment and appreciation of farm to table eating. Now, that's living deliciously!
MENU
Composition of Colorful Radishes, herb compound butter, fromage blanc custard, Tongues of Fire beans and Carta di Musica flatbread
Summer Cassoulet of Painted Pony Beans and Confit Garlic with a Salad of Thai Soldier and Tavera Beans
Dessert Soup of Ginkaku Melon and Cucumber with Thai Basil Sorbet
Layla Aguilar manages a three acre farm for Bi-Rite Markets in Sonoma, CA.  She grew up in Los Angeles and attended UC Santa Cruz, graduating with honors in Women's Studies. After graduating, Layla spent several years working with children in garden and farm settings before attending the CASFS apprenticeship at UCSC.  She worked two seasons as Assistant Miller for Olive to Bottle, the first mobile olive mill in the US, spent a season farming in upstate New York, and helped her friend start a family farm in western Virginia. In 2013, she landed back in CA  - this time in Sonoma County.  The past six years with Bi-Rite Farm has allowed her to grow immensely as a farmer, with everyday being an exciting new challenge.  Layla enjoys feeding people well, hiking the Sonoma County hills with her dog, and spending her winters looking at seed catalogs.
Born in the Haight Ashbury neighborhood of San Francisco, Mike Weller grew up in suburbs of San Jose, where he discovered cooking as his first profession and lifetime passion. After wandering through typical teenage jobs at pizza joints and ice cream parlors, Mike's first "restaurant" job was with Sambo's Coffee Shops, slinging hash and cooking eggs for the bar rush and Sunday breakfast crowds.  He moved on to help open several restaurants, attend the California Culinary Academy, and study under European chefs with Michelin backgrounds. Later, Mike served as an executive chef for catering companies, wineries and country clubs.  When his son was born, Mike transitioned his career into teaching, returning to the CCA where he eventually became the Executive Chef and Director of Academics.  Having taught for Le Cordon Bleu North America in both online and brick and mortar schools, Mike is thrilled to return to teaching in a neighborhood-based community.  When he is not teaching he tends to his backyard garden, helps his wife to can and preserve food, and loves to cook for his friends and family.
Photo courtesy of the good people at Bi-Rite Marketing Team