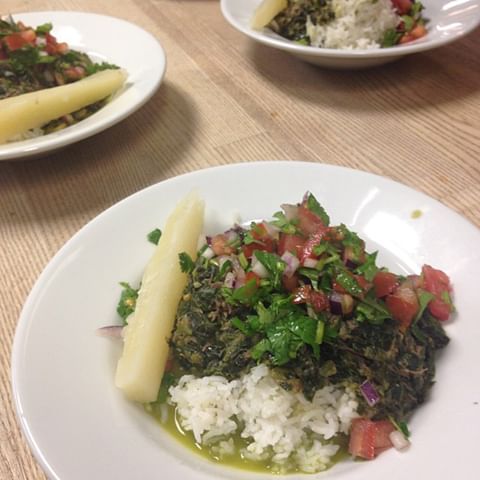 Bula! Flavors of the Fiji Islands will be showcased at our February's Community Dinner by our friend, James Chand. James is the founder and executive chef of Curryous Catering, the 5-star premiere Fijian-Indian catering company in San Francisco, California. Some of you have enjoyed his recipes and stories at past classes and a Community Dinner. We're happy to welcome James back after a recent trip to Fiji. He will be serving a hearty Fijian lolo (coconut milk stew) accompanied with steamed tavioka (cassava).
This comfort meal is shared in all Fijian homes both on the islands and abroad. Chef James will add his own twist with subtle Indian flavors keeping true to his Fijian-Indian roots.
MENU
House Corned Mutton and Spinach Lolo (coconut-based stew)
Vegetarian Option: Spinach Lolo with Seasonal Vegetables
Steamed Tavioka (cassava)
Fresh Island Relish: tomato, mango, onions, cilantro, green chili and lime
From the time James Chand was a very young child, he has had a deep love of food—specifically the flavors of India and Fiji. His family, who were from the Fiji Islands, were all excellent cooks and kept him nearby in the kitchen from a very young age. By the time he could hold a spoon, he was helping cook for family events. One day, on a whim, a friend asked James to cater a birthday party. James obliged, and the food he cooked—all traditional Fijian-Indian dishes—was a huge hit. Soon, more friends (and friends of friends) began asking James to cater their affairs, and it became clear to James that he had found his true calling. He left his job in corporate sales, and set about founding a catering company. You can visit Curryous Catering by clicking here.
ABOUT COMMUNITY DINNER
Once a month, we open our doors to friends new and old, welcoming all to our share a table and a delicious meal. Every month is something different, but it's always $15 and always tasty. Wine and beer are for sale at the event. Kids welcome! 
For our second seating at 7:30 pm, please click here.
Photo courtesy of James Chand