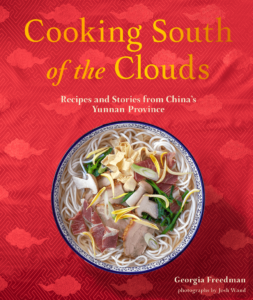 A hands-on cooking class culminating in a family-style dinner served with wine and beer.
The foods of Yunnan Province, in southwestern China, are some of the most varied and delicious dishes in Asia. Join Georgia Freedman, author of the new cookbook Cooking South of the Clouds—Recipes and Stories from China's Yunnan Province (Kyle, 2018), for a hands-on introduction to the region. The class will start with a tea tasting, and participants will leave with some spice mixes and flavorings to take home.
MENU
Chicken and Chestnut Soup 
Vegetable Momos with Tomato Dipping Sauce
Cold Rice with Spicy Stewed Beef and Greens
Grilled Shao Kao-Style Eggplant Stuffed with Pork 
Chrysanthemum Greens Salad 
Stir-Fried Beans with Pickles 
We will have copies of Georgia's books for sale onsite, thanks to our friends at Omnivore Books. 
Georgia Freedman is a freelance journalist based in the Bay Area and the author of Cooking South of the Clouds—Recipes and Stories from China's Yunnan Province (Kyle, 2018). An avid student of Chinese food and culture, Georgia has been traveling to China regularly since 2000 in order to learn about the country's diverse foodways. In 2011 she left her position as managing editor of Saveur magazine and moved to Yunnan for two years to further explore the area's foods and traditions. Georgia's writing has appeared in the Wall Street Journal, Afar, Martha Stewart Living, Saveur, Roads and Kingdoms, and other food and travel publications. She returns to Yunnan regularly and continues to write about food and travel there at chinasouthoftheclouds.com