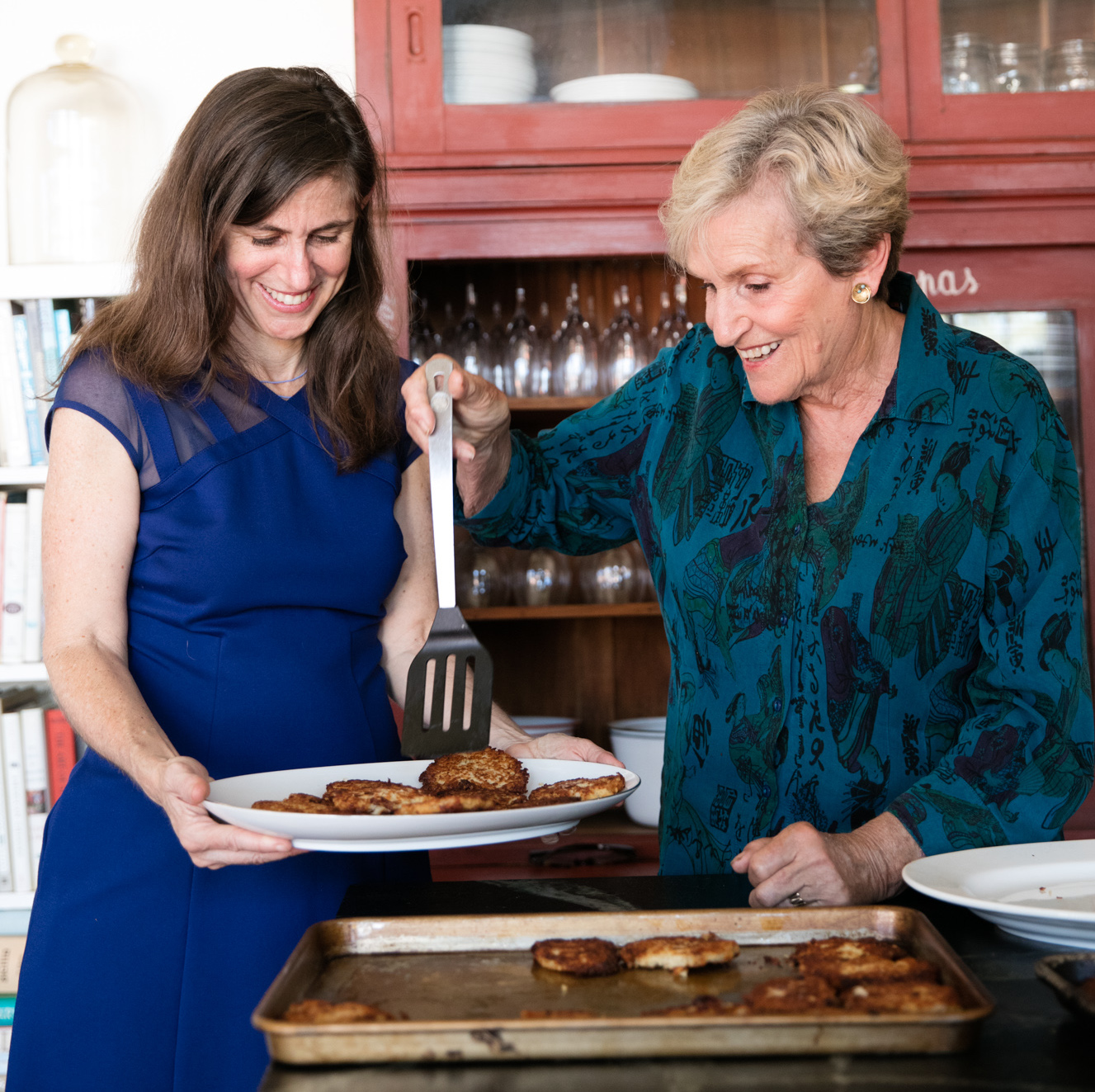 Books will be available for purchase. Kids welcome!
A seated dinner. Guests are welcome to BYOB wine and beer; we will also have bottles for sale.
Author Leslie Jonath drew her inspiration for Feed Your People from her mother's famous latke parties and from her experience at an 18 Reasons Community Dinner. Come try the recipe that started it all! Crispy latkes are the centerpiece of this festive holiday party. Made with potatoes, onion and matzoh, these crispy latkes symbolize the miracle of Hanukkah. When topped with sour cream and/or apple sauce, latkes are a miracle in themselves. Leslie and her mom will be in the dining room eager to share their latke tips and tricks!
The dinner features other favorite big-batch recipes, include Anya Fernald's Brisket, Michelle McKenzie's Grain Salad, and Claudia Roden's Orange Almond Cake. We can't wait to share this meal, and this holiday season, with you. Chef Justin Fertitta, a new addition to the 18 Reasons team, will be cooking up the menu in our kitchen, though Belcampo is generously donating their delicious brisket!
Our book Feed Your People features recipes by big-hearted cooks to gather around and this latke recipe by the author's mother is sure to help you bring your people together. In addition to latkes, this pop-up dinner will feature long-braised brisket created by Anya Fernald founder of Oakland-based Belcampo and vegetarian grain salad by Michelle McKenzie with a luscious orange cake by Claudia Roden for dessert. Feed Your People features all of these recipes and more, created by some of our favorite chefs, representing foods they love to gather around. Join us for a fun, relaxed evening, and cozy dinner.  
MENU
Potato Latkes
Belcampo's generously donated Brisket 
Michelle McKenzie's Toasted Millet with Crispy Curried Cauliflower
Seasonal Salad
Claudia Roden's Orange Cake
ABOUT FEED YOUR PEOPLE
Feed Your People is a community-based cookbook created by local author Leslie Jonath, with recipes for crowd-pleasing, big batch cooking from warm-hearted cooks, chefs, and grandmas for the foods we gather around--from backyard barbecues and soup suppers, to hand-wrapped tamales, dumpling dinners, and seafood boils.  Whether for a family reunion, a DIY wedding, holidays, memorials, non-profit fundraisers or a neighborhood block party, this book will inspire you and make cooking for your community a delicious, affordable, fun, memorable feast. Feed Your People was published this summer by Powerhouse Books. Click here to learn more. We will have copies available for purchase at this dinner!
Originally from Illinois, Justin Fertitta began working in professional kitchens at the age of 15. After graduating from The Culinary Institute of America in 2004, Justin honed his craft in the trenches of the New York City restaurant scene for over a decade, working in many renowned kitchens including Aquavit, The Waldorf Astoria, Five Leaves and Desnuda. Throughout his career as a Chef, teaching those around him has always been a primary focus and passion.  Justin loves to travel abroad whenever the opportunity presents itself. He's traveled extensively throughout Southeast Asia, exploring the many regional cuisines and wet markets, where he draws much of his culinary inspiration. In 2015, he developed the first ever Chef-in-Training Program at The Doe Fund, a nonprofit that provides job training opportunities for individuals with a history of homelessness, addiction, and incarceration. His experience leading the course for two years solidified a passion for teaching culinary arts. A recent transplant to the Bay Area, he splits his time as a private chef and a freelance culinary instructor. Justin is excited to explore California cuisine and share his experience and passion with those at 18 Reasons.