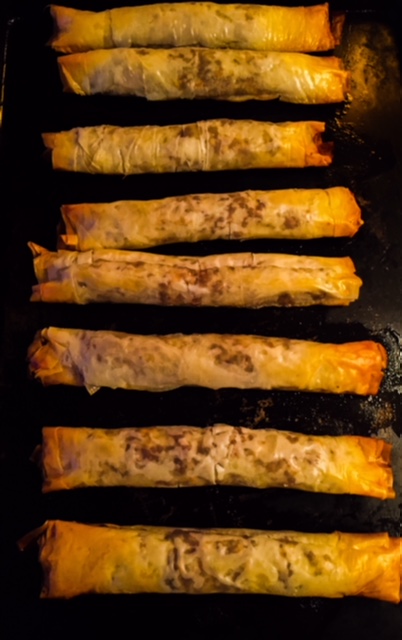 A hands-on cooking class culminating in dinner served with a glass of wine or beer. Copies of Amanda's cookbook will be available for purchase and are not included in the ticket price.
Join us for a class with a teacher visiting from the East Coast, Amanda Cushman. Amanda's passion is world travel and she has sought food and local culture of numerous locations since her teens. The recipes in this class came from a wonderful trip with good friends to Iran where she was introduced to the intricate and bold flavors of the Middle East. Locals offered tips and stories about this incredible cuisine and Amanda is eager to share them with you.
MENU
Persian Eggplant and Walnut Dip
Feta and Olive Salad with Pomegranate Vinaigrette
Stuffed Flatbread with Mint, Parsley and Feta
Persian Pistachio Lamb Kebabs with Turmeric Aioli
Phyllo Cigars with Date and Almond Filling and Chantilly Cream (pictured)
Amanda Cushman of Chapel Hill Cooking Classes is a culinary educator, cookbook author, writer and recipe developer who has cooked professionally for over thirty years. She teaches privately for groups of two to twenty students in their home as well as having taught in venues such as Sur La Table, The Institute of Culinary Education, The Natural Gourmet Cooking School and Williams Sonoma. She has hosted corporate team building classes for companies such as; Fitness Magazine, Exxon Mobile, Hugo Boss, Yahoo, Nike, Google, Guess Jeans, Direct TV and Toyota.
Her food career began in Manhattan where she worked with some of the top NYC caterers; Martha Stewart, Panhandlers and Glorious Foods. While in NYC Amanda worked in the test kitchens of; Food and Wine, Cooking Light, Vegetarian Times, Fine Cooking and Ladies Home Journal. She was a private chef to a number of clients including James Robinson; CEO of American Express and Amy Levin the Editor in Chief of Glamour. Her private classes were a big hit in Los Angeles where she taught for ten years, with clients such as Neil Patrick Harris, Molly Sims, Anne Archer and Randy Newman.
She has made her name in cities such as Boston, NY, Miami and Los Angeles and relocated to Durham, NC where she continues to teach in private homes as well as developing recipes for food start ups such as Deep River Snacks. Her highly popular public classes are featured at Southern Season, Cooks Warehouse, Duke Diet and Fitness, The Kitchen Specialist and ICE in NYC.
Her cookbook Simple Real Food is on its third printing and focuses on clean, global recipes that are easy to follow and prepare in the home kitchen. Amanda is a member of IACP and Les Dames and is Serv Safe Certified.
You can follow her at www.chapelhillcookingclasses.com
(Photo courtesy of Amanda Cushman)