Chicken Butchery and Cookery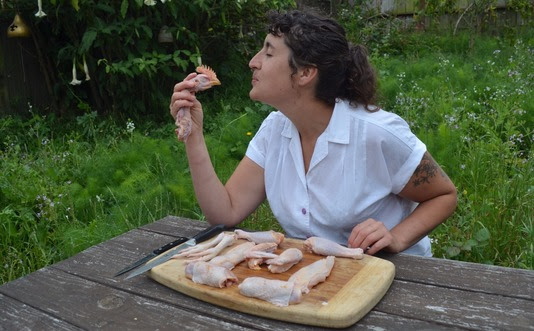 A hands-on cooking class culminating in dinner served with wine and beer. Knives will be provided for student use. Class is limited to 12 students.
Mastering a whole chicken is a fundamental skill in the kitchen. Join local butcher and chef Gracie Schatz to strengthen your chicken knowledge! Students will become confident and adept at butchering a chicken and utilizing every single part to create a delicious menu. Students will learn three meat cooking techniques (poaching, braising and roasting), sanitary meat handling practices, and an introduction to the wonders of offal.  
MENU 
Chicken Liver Crostini with Seasonal Fruit, Pickled Shallot, and Mustard Seeds
Crispy Chicken Wings with Calabrian Chili and Honey Sauce
Little Gem Salad with Poached Chicken Breast, Crispy Chicken Skin, Seasonal Fruit, Almonds, Goat Cheese, and Fines Herbs
Braised Chicken Thighs with White Wine, Rosemary, Charred Citrus and Olives served with Israeli Couscous Tabouleh 
Smoked BBQ Lollipop Drummettes
Gracie Schatz has been in the food industry for 10 years. She began her career as a baker and private chef in Eugene, Oregon. She moved to Italy to learn about farming pigs, making cheese, tending bees, and Tuscan cooking. After tasting Italian prosciutto, she became a pork fanatic which led to her to the Fatted Calf in San Francisco and eventually managed Avedano's in Bernal Heights. Her desire to partake in the full cycle of meat consumption lead her to the Sierra Foothills where she raised, slaughtered, and cured her own heritage pigs. She returned to the Bay Area to cook at Molina and Cala restaurants where she became an adept fish butcher and learned to cook in a wood-fired oven. All the while Gracie and her business partner, Alana Eckhart have run a successful pop-up restaurant, Bread and Bones Supper. Today, Gracie is eager to share her knowledge and passion with others and help connect aspiring cooks with the freshest ingredients and learn how simple good food can be. 
(Photo courtesy of Gracie Schatz)