Flavors of Burma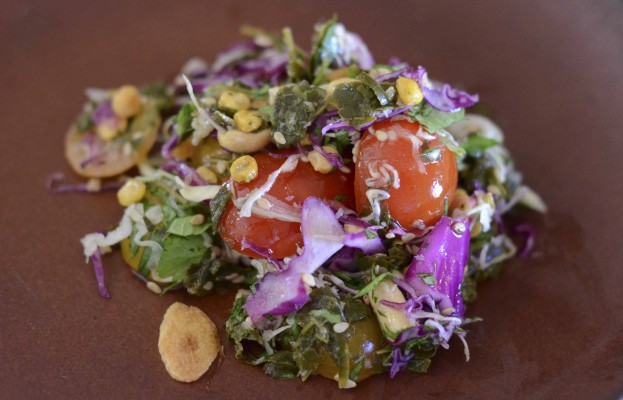 A hands-on class culminating in dinner served with wine and beer.
Influenced by neighboring China, Thailand, Laos, and India, Burma boasts a multi-faceted cuisine unlike any other. Join Linda Tay Esposito for this fast-paced, hands-on class, where you'll work in teams to create these Burmese classics. Linda will ensure you know about the key ingredients that make these flavors and where to get them for your own home. You'll feel rewarded for your hard work when you settle in with your classmates for this delicious meal.
MENU
Tea Leave Salad - House-made tea leaf dressing with crunchy split pea toppings and garlic chips over a cabbage slaw
Shan Tofu Thoke -  Crispy Chickpea-based "Tofu" with  Shrimp-Chili Balachung & Shallots Sauce
Chicken Curry Coconut Noodles - Succulent Morsels of Chicken in Creamy Coconut Sauce with Fresh Egg Noodles
Coconut and Semolina Cake
Linda Tay Esposito is a self-taught chef whose food represents a tribute and a commitment to the authenticity of the cuisines of the Pacific Rim. She grew up in Malaysia, lived in China and Hong Kong and traveled extensively in the region exploring the vast culinary offerings and traditions, and capturing the essence of the local cuisines. She brings these exciting flavors, passion and knowledge to the classroom. Her style of teaching makes even the most complex of curries simple to make and a gastro-adventure experience of "Flavor Explosions."
A freelance culinary educator, Linda teaches at the The Cooking School at Cavallo Point and at Sur La Table Cooking School. Previously, she was a lead chef at Parties That Cook where she teaches global cuisines in a team building setting.  She started her teaching career at Whole Foods Market Culinary Center. Most recently, she was head of operations and chef at Bay Area's artisan tofu maker, Hodo Soy. She writes a food blog at www.flavorexplosions.com
(Photo courtesy of Linda Tay Esposito)