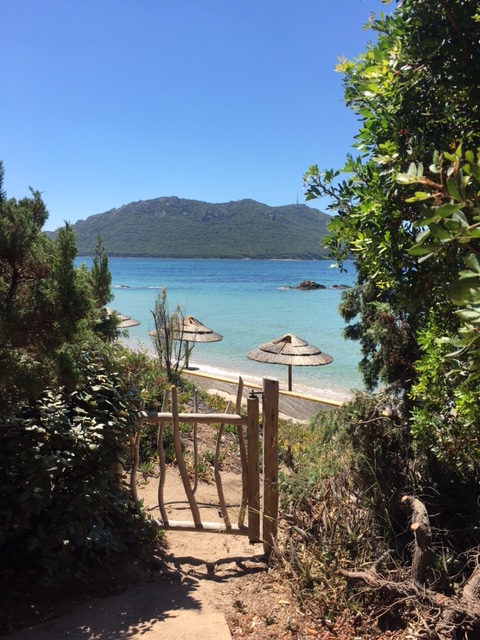 A hands on cooking class culminating in dinner served with wine and beer.
The island of Corsica, located in the Mediterranean Sea, is often referred to as "The Island of Beauty" and for good reason! Corsica reveals a resilient and dramatically beautiful island rich in tradition. Perhaps you know Corsica as the birthplace of Napoleon, and though it is a part of France, this island has long stood apart from the mainland with its own blend of traditions steeped in both French and Italian influences. It is home to some of the best charcuterie in the world as well as olive oil, honey, wine and cheese; Corsica has many culinary gems! Join our resident French cuisine instructor Zoe McLaughlin, who recently returned from a holiday in Corsica, and discover the food that sets this island of beauty apart from the rest of France!
MENU
Tartine de Chèvre, Ail Confit, Prosciutto Et Miel - Tartine of Fresh Sheep's Cheese, Roasted Garlic, Proscuitto, and Honey
Poisson Cuit En Papillotes Et Sauce À L'Oseille - Steamed Fish With Lemon, Herbs, and Sorrel Sauce
Tomates Confites - Slow Roasted Vine Tomatoes
Pommes De Terres Confites Au Sel - Salt Roasted Fingerling Potatoes
Fiadone - Corsican Style Cheesecake with Fresh Berries
Zoé McLaughlin was born in Paris and raised in San Francisco. She graduated from Le Cordon Bleu in Paris and worked in restaurants in France while she wrote and published her first cookbook – a collection of family recipes influenced by her multicultural upbringing.  She now lives in San Francisco, where she works in the non-profit culinary world and hosts online cooking demonstrations.  She has a passion for bringing together the diverse flavors and culinary traditions of the Bay Area with the time tested techniques of classical French cooking.
(Photo of Corsica courtesy of Zoe McLaughlin)