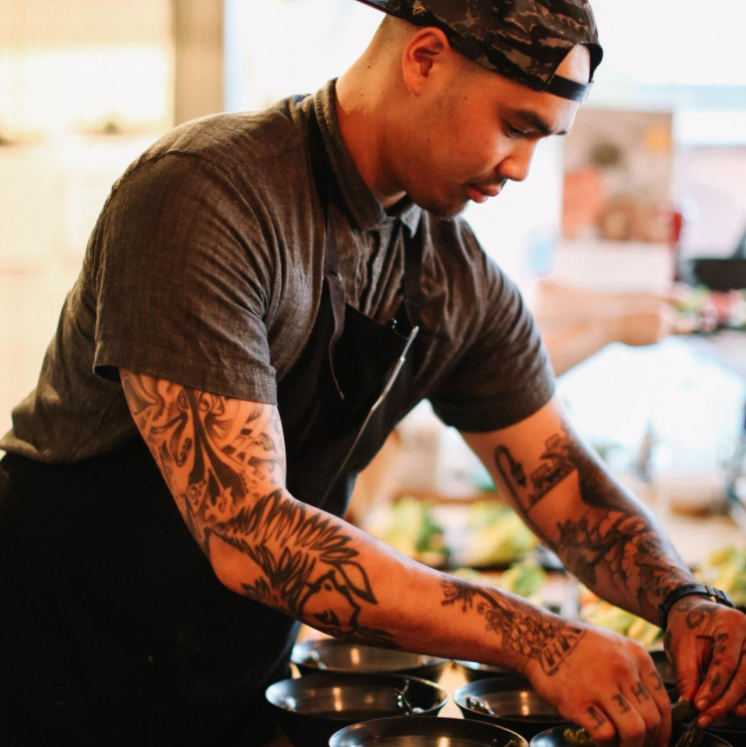 A five course dinner paired with wine.
Join Chef Tu David Phu and Bi-Rite Market's wine buyer Trac Le for an unforgettable evening of modern Vietnamese cuisine paired with Trac's favorite wines.
Chef Tu's food is funky, intense, creative, and inspired by his family's origins in Phu Quoc, Vietnam - the island famous for producing some of the best fish sauce in the world - as well as the incredible farms, ranches, and fisheries of Northern California. Trac's creative wine pairings will teach us how to enjoy some of our favorite wines in a new context. 
MENU
Cá Nhúng Dấm ~ 'Phu Quoc Style Ceviche'
tombo ahi/turmeric/pineapple/caviar/korean celery
Helmut Dolde A-Sekt Wüttumberg, Germany 2015
Gỏi Cần Tây và Nấm Cục ~ Celery & Truffle  Salad 
kumiage/mushroom/onion ash/fresh walnut
Vini Viti Vinci Aligote Irancy, France 2015
Hoành Thánh ~ Pork & Foie Gras Wonton
mushroom consomme/brassica/ginger 
Julien Altaber Maranges Burgundy, France '15
Beef Tenderloin Bò Kho ~ Beef Stew Vietnamese Style
daikon/radish/carrot
Artuke Finca de Los Locoa Rioja, Spain '14
Tàu Hũ Nước đường
Hodo Soy silken tofu, ginger syrup, gold
Bordiga Vermouth Bianco
ABOUT CHEF TU
Chef Tu David Phu is a Vietnamese-American Chef, Food Editor and Forager. His stints include the nation's top Michelin-rated restaurants: Chez Panisse, Quince, Acquerello, Daniel Boulud, Breslin, Gotham Bar & Grill and Gramercy Tavern. Most recently, Chef Tu was Executive Chef of Gather in Berkeley.
But long before cooking professionally, Chef Tu had a rich culinary background. His family hails from the Island of Phu Quoc, in South Vietnam. His frequent trips to Vietnam immersed him in the practices, ingredients, techniques, and flavors of Vietnamese cuisines.
His pilgrimages to Vietnam and his professional experience gives him the tools to unlock the layers and complexity of common dishes of his childhood. Observing different worlds, his cooking reflect a wide range of cooking cultures - from the American culinary greats, classical European traditions, to his Mothers' generations-old wisdom handed down grassroots-style. 
Chef Tu invites diners to explore flavors and pairings with centuries of refinement and familiarity in Vietnam, but not often encountered in the United States. Diners already steeped in Vietnamese eats will find both taste memories and adventure in his compositions.