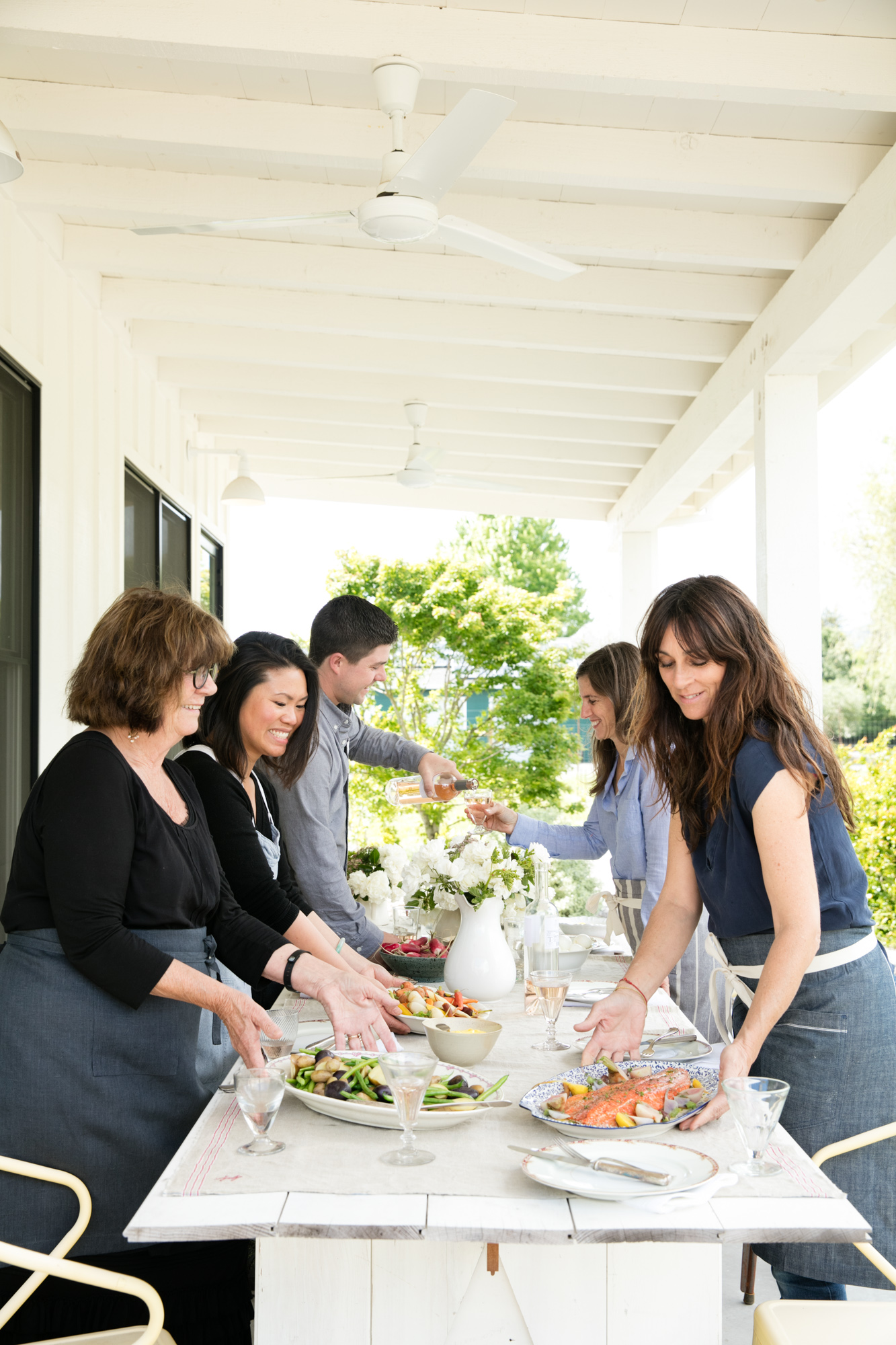 A seated dinner. Guests are welcome to BYOB wine and beer; we will also have bottles for sale.
Throughout 2016, we will be hosting a series of dinners called Feed Your People. These family-style meals -- cooked by famous chefs in our 18th Street space -- are centered around big batch recipes, many of which will be featured in our collaborator Leslie Jonath's Feed Your People cookbook (Powerhouse Books 2016). We know that cooking for a crowd can be intimidating, and the goal of both the dinner series and cookbook is to help home cooks gain confidence and creativity when hosting large group meals. This month's dinner features Georgeanne Brennan in celebration of the release of her new book, My Culinary Journey - The Food and Fetes of Provence. Copies will be available for purchase.
The Grand Aioli is a village fete, or communal feast held throughout villages in Provence in summer and early fall. Hundreds of people gather together to share a meal of steamed potatoes, green beans, beets, hard-cooked egg and salt-cod, or sometimes snails, all served family style with great bowls of garlicy mayonaisse. The fish for our feast takes a Pacific twist, using our west coast salmon instead of salt cod. 
MENU
Appetizers of Radishes, Olives, and Toasted Almonds 
Platters of Tomatoes with Extra-Virgin Olive Oil and Basil 
Platters of Steamed and Grilled Vegetables, including Potatoes, Green Beans, Beets, Sweet Peppers, Eggplant 
Hard-cooked Eggs 
Roasted Salmon Fillet 
Bowls of Aioli 
Baguettes 
Oven-roasted Seasonal Fruit with Bi-Rite Creamery's Vanilla Ice Cream
Georgeanne Brennan is a James Beard award-winning cookbook author and journalist. She and her work have been featured in such publications as the Wall Street Journal, Gourmet, Food and Wine, San Francisco Chronicle, Edible magazines and elsewhere. In 2014 she founded La Vie Rustic: Sustainable Living in the French Style, a product line and on-line store. www.lavierustic.com. The La  Vie Rustic Cookbook –recipes, tips, and tales will be published in spring 2017 by Weldon-Owen. Her most recent book is My Culinary Journey – Food and Fetes of Provence  (Yellow Pear Press, fall 2016)