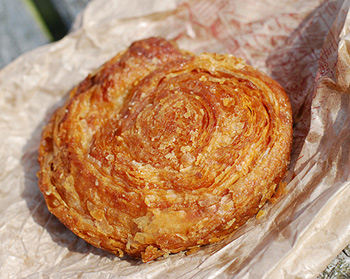 There's a reason Kouign Amann (pronounced "kween-ahMAHN") has taken the pastry world by storm; it's sweet & flaky, crunchy & chewy, and utterly delicious! 
Join Jen Nurse for a hands-on class in making these treats from the Brittany region of France. You'll leave with freshly-baked pastries and the skills you need to turn out beautiful Kouign Amann at home.
A hearty snack of baguette, ham, butter, radishes, and a seasonal salad will be served.
 
Jen Nurse is passionate about demystifying cooking and baking for the home cook. A lifelong love of the kitchen pulled her away from a long tech career to open an award-winning boutique bakery in Seattle. Back in her native San Francisco, Jen has worked as a chef and recipe developer for clients ranging from food trucks to Michelin-starred restaurants. The chance opportunity to teach a cooking class two years ago led to her life's great "Aha!" moment; she now teaches kids and adults throughout the Bay Area to make simple yet sophisticated food.