Scandinavian Baking - In Person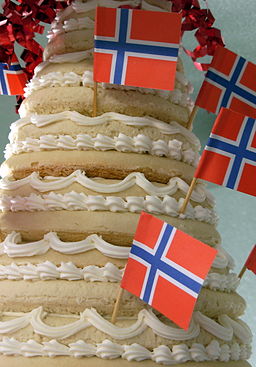 A hands-on in-person cooking class. Alongside the baked goods, a seasonal salad will be served. This class is limited to 12 students. Review our registration and cancellation policies here. Masks and proof of boosters are required.
Jennifer, our resident baking instructor, compiled a survey of Scandinavian baked goods to satisfy the curiosity of Scandinavian cuisine. In this hopscotch-like tour of Scandi pastry classics, you will work in teams to produce a variety of treats.
MENU
Finnish/Icelandic Quick Dark Rye Bread — A dense quick bread, delicious with sliced meats, cheese, smoked fish, or with cultured butter. We'll slice these loaves and make open-faced sandwiches to end the night!
Icelandic Astarpungar — Also known as "Love Balls," these are deep-fried doughnut-like bites with raisins.
Norwegian Kransekake — A traditional almond "Ring Cake" made for special events. 
Swedish Kladdkaka — Sticky chocolate cake that hits all the right buttons: easy, gooey, very chocolatey.
This menu contains the following common allergens: Fish, Shellfish, Egg, Tree Nuts, Dairy, Wheat. If you have allergies or dietary restrictions that concern your ability to cook along, please e-mail info@18reasons.org before purchasing a ticket.
Let's Cook Together! 
Jennifer Altman began her culinary journey at age eight baking and cooking for her family and friends. After a career in science, she followed her passion and became a pastry chef. She is now a culinary instructor teaching both professional and amateur cooks nationally and internationally. She loves anything to do with food—cooking, gardening, recipe developing, teaching, and is particularly interested in food sustainability.
Photo by Jonathunder [CC BY-SA 3.0 or GFDL], from Wikimedia Commons