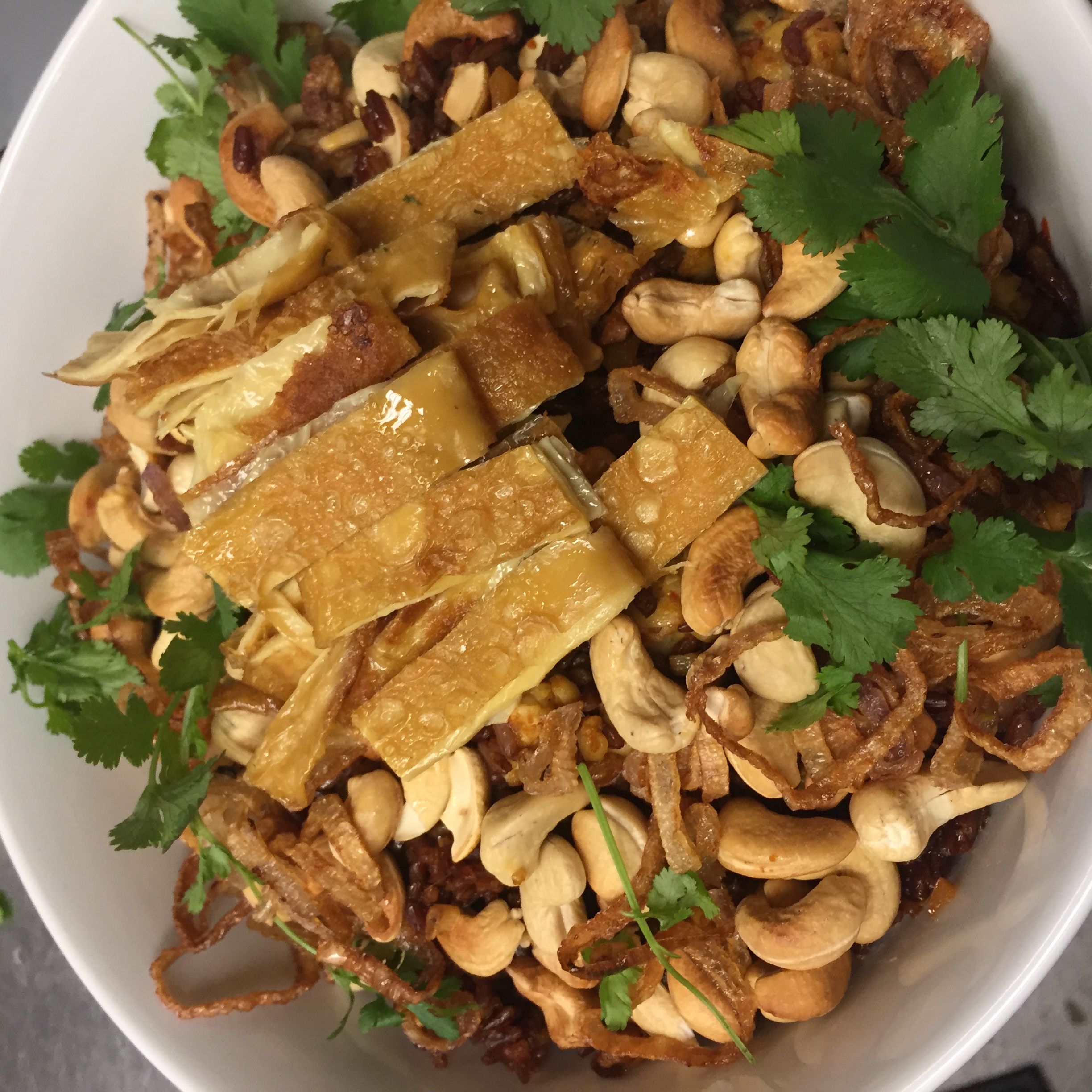 This is a live, online class with demos conducted by the teacher. Students are not expected to cook along due to the fast-paced nature of the class. Students are encouraged to ask questions during class. Recipes will be emailed a few days before class. The demo will be recorded and a link to view will be shared a week later with registrants. See our event policies at the bottom of this webpage.
This month's Community Dinner features Linda, our resident Southeast Asian cuisine instructor. Nasi Goreng translates to "fried rice" in Indonesian and Malay languages, and is a popular dish in Indonesia, Malaysia, Singapore and Brunei. Fried rice is such a great way to feed a crowd and a key technique for the home cook. In this live demo, we hope to chat with you while Linda leads us through the steps to make fried rice in her kitchen, inspiring us to travel a bit with her and feed our communities. 
MENU
​​​​​​Nasi Goreng with Egg, Kerupuk and Protein of Choice
Cucumber-Pineapple Pickle
This menu contains the following common allergens: Fish, Egg (optional), Soy, Tree Nuts, Nuts. If you have allergies or dietary restrictions that concern your ability to cook the recipe, please e-mail info@18reasons.org before purchasing a ticket.
---
If you're new to 18 Reasons Online, please read this guide: How to Take an Online Class at 18 Reasons. Five calendar days before class, 18 Reasons may decide to cancel this class if not enough tickets are sold. We will notify registrants by email about cancellations.
---
Linda Tay Esposito is teaching chef whose food represents a tribute and a commitment to the authenticity of the cuisines of the Pacific Rim.  For the last 15 years, Linda has shared her passion and knowledge of South East Asian cuisine in the Bay Area and her work had been featured in KQED Bay Area Bites, the New York Times, etc. Linda taught at the The Cooking School at Cavallo Point and at Sur La Table Cooking School, and was a lead chef at Parties That Cook where she taught global cuisines in a team building setting. She started her teaching career at Whole Foods Market. Most recently she was the head of operations and chef at Bay Area's artisan tofu maker, Hodo. She currently leads the development of La Cocina's municipal marketplace – using food as a creative approach to economic development by offering affordable, healthy food options and safe spaces while providing assessable business opportunities for low income, immigrant, women food entrepreneurs. She writes a food blog at www.flavorexplosions.com and you can follow her on Instagram @flavor_explosions
Photo by Linda Tay Esposito