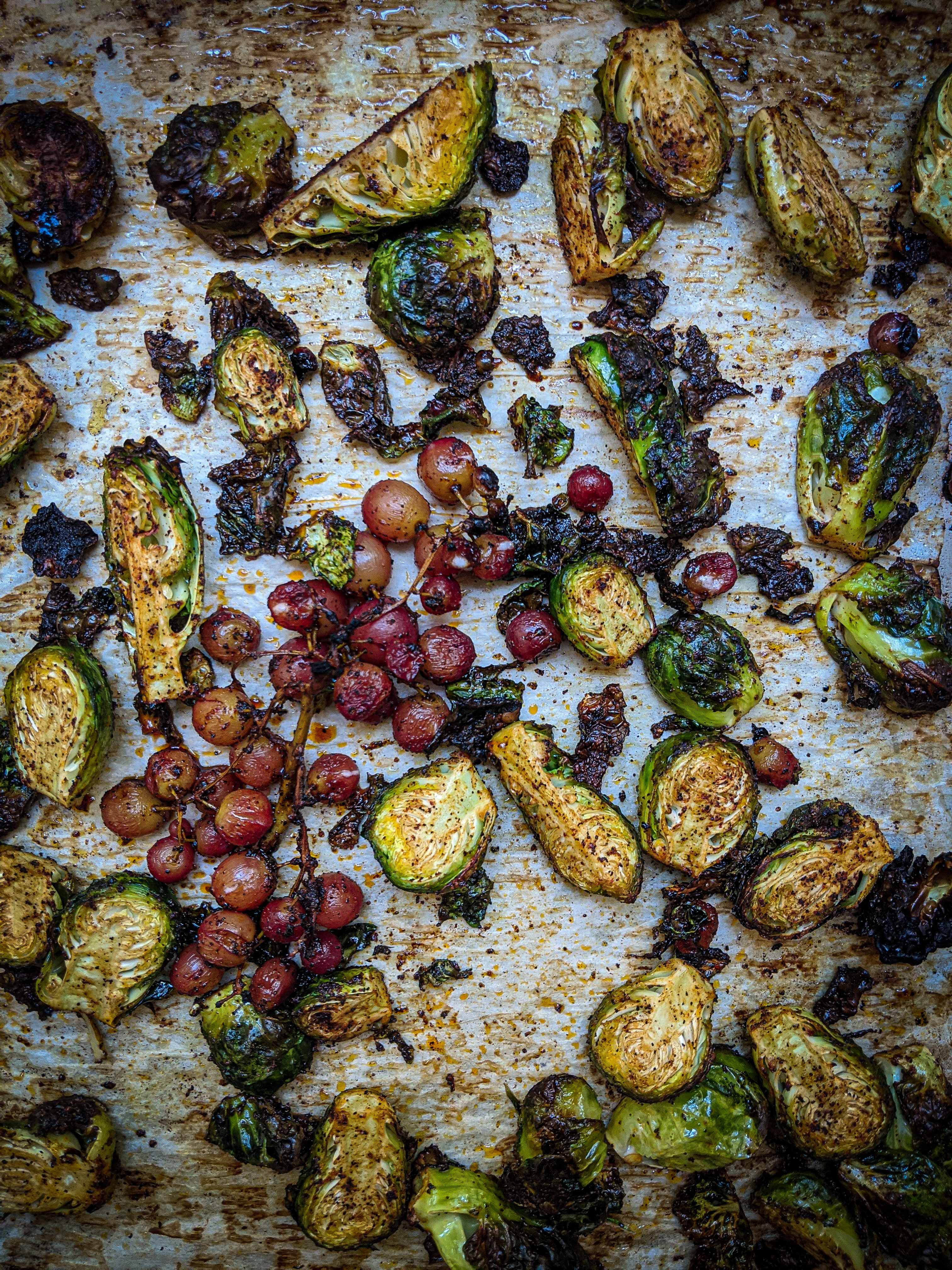 This is a live, interactive, hands-on cooking class held online via Zoom. See our event policies at the bottom of this webpage.
When it comes to your holiday feast, we all know it boils down to the sides dishes. #AllAboutTheSides Holiday side dishes spotlight seasonal gems: vibrant squashes, deep forest-colored leaves, shiny sparkles of fruit, and more. Tangy dressings, luxurious sauces, and spices make these accompaniments sing, often overshadowing the main course. Sides are even more valuable if your diet is centered of plant-based foods, or if you are hosting vegan and vegetarian guests. 
Join Marie as she teaches you how to make a variety of vegan sides that are easy to prepare, sassy, and satisfying. Super bonus: gorging on these plant based won't leave you in the traditional food coma. Feast on this!
MENU
Kale Salad with Farro, Pecans, and Pomegranate 
Squash with Agrodolce and Arugula 
Roasted Brussels Sprouts & Grapes with Coffee Rub
Equipment and Ingredient List for this class found here; check before buying a ticket.
This menu contains the following common allergens: Tree Nuts (pecans can be omitted), Wheat (you can substitute farro for a GF grain). If you have allergies or dietary restrictions that concern your ability to cook along, please e-mail info@18reasons.org before purchasing a ticket.
---
If you're new to 18 Reasons Online, please read this guide: How to Take an Online Class at 18 Reasons. Five calendar days before class, 18 Reasons may decide to cancel this class if not enough tickets are sold. We will notify registrants by email about cancellations.
---
Marie Brennan graduated from the University of Wisconsin with a degree in Dietetics. An avid traveler, she has explored her love of food while on the road. Marie's travels have taken her to study cheese-making in Tasmania, raw food in Western Australia, tea and fermented foods in the mountains of Korea, Ayurvedic cuisine and herbology in Kerala and the kitchens of numerous meditation centers around the world. She moved back to the USA to attend a holistic culinary arts school in Berkeley, where she also worked and taught at for several years. Marie presently lives in the Bay Area and works as an educator, private chef and is the Culinary Creative Director for Café Umami. You can find her at www.hedonistinmoderation.com and follow her IG @hedonistinmoderation 
Photo by Marie Brennan